Introduction
The clearest illustration of the importance of a champion team occurred in the 2014 World Cup semifinal soccer match between Brazil and Germany. The 2014 World Cup was won by Germany, and Brazil lost heartbreakingly in the semifinals. According to media reports, the Brazil loss was the consequence of poor planning, poor coaching, and poor performance. But you cannot make it to the semifinals without having a great level of performance, planning, and coaching.
Was it passion and mission? As far as passion and mission go, both teams, Germany and Brazil, had that day. It's probably because of this passion and mission that both Germany and Brazil came through the qualifying rounds to make it to the top 4. Players in both teams had the passion to play soccer and their mission was to win the semifinals and enter the finals.
What then sets the winning team apart from the high-performing team? Was it a stroke of luck? Was it mere chance? Maybe. But on close observation, one may see the distinction between a champion team and a winning team.
Iterate with Continuous Learning
Brazil's humiliating World Cup loss exposed their lack of preparation, as they failed to consider both their own strengths and shortcomings as well as those of their opponents. Brazil had a stronger track record in the penalty shootout despite Germany's reputation for greater teamwork. In contrast, Germany's success is credited to its systematic and disciplined deep learning system. The team analyzed their performance and identified areas of improvement. The team focused on pressing and identifying individual roles while collectively thinking of the greater goal.
Similarly, it is crucial for businesses to encourage teams to learn continuously. A winning Team educates itself, adapts to new technologies, and keeps ambitious targets. Champion teams iterate education, train the education model, adapt to new technologies, patches, and upgrades, and continue to keep and evaluate their stretch goals.
Winning Team
Champion Teams

Learns
Adapts to new technologies
Makes stretch goals

Deep Learns and iterates the learning model
Adapts to new technologies, patches, and upgrades
Keeps evaluating stretch goals
To transform your team into a champion team, give your employees the resources they need to improve their memory, problem-solving, and cognitive skills. They must be able to swiftly adopt new tools, procedures, and commercial trends. Always push the envelope by having individuals play different roles, setting up fire drills, and simulating failure.
Avoid Over Confidence. Don't Take Things for Granted
Brazil chose a junior team to play against Germany. Being 5-time world champions, they assumed that they would win the semi-finals, and started prioritizing for the final. They did not want their best players to get red cards and kept them for the finals. Germany on the other hand kept its confidence in check. It focused and brought the best team together for the semi-finals.
Similarly in information management, winning teams tend to see themselves in a favorable light, which can lead to overconfidence. Overconfidence can be a significant issue, putting work and deliverables at risk. Some of the common signs of overconfidence in information management are:
We checked everything
We have never failed in the past
We have been doing this for a very long time.
Winning teams often come up with only one strategy to win. A champion team will come up with multiple strategies, each strategy corroborating the results of the other strategy. A winning team will allow confidence take precedence over expertise. A champion team will never be overconfident because it controls its impulsivity, avoids shoddy work, is receptive to constructive criticism, and doesn't place too much weight on the past successes.
Think Long Term
Brazil's primary goal was to reach the final and win the world cup that year. Germany, on the other hand, wanted to maintain its dominant position. It had ranked among the top 3 in the previous two world cups. This is a result of their club mindset. There is a club in Germany for every interest, including participating in carnivals and raising bunnies. There is a ladder board, and the name of the best person and team always appears at the top of the board. This fosters the long-term mindset of always being the lead
In information management, a project similarly energizes everyone. Executives immediately support the project, users quickly supply needs, and engineers swiftly provide reports and dashboards. The dashboards and reports are vibrant, precise, and provide immediate pleasure. The "winning moment" is fun for everyone. But this is only temporary. Over a period of time, the data, dashboards, and reports, stop updating and the reports stop working. When someone eventually asks for the report, a ticket is cut, and an engineer is tasked with reviving the report.
On the other hand, a champion team not only carries out all of the winner's actions but also sustains these ambitious ideas and makes long-term viability investments. Things like automated report updates and routine report maintenance are ingrained in the team's readiness practices. Champion teams ensure that their systems functions consistently, especially when the underlying technology and data structure changes, new security patches are installed and new upgrades are implemented. Champion organizations set expectations clearly and anticipate demands. They consider the big picture rather than simply the need of the hour.
Winning Team
Champion Team

Produces accurate data visualization
Data visualization is fancy and colorful
Sets expectations

Produces accurate and sustained data visualization
Data visualization is useful
Sets expectations and anticipate demands
Over-index On Self-Assessment and Customer Anecdotes
At the time of the world cup, being the host nation, Brazil had already spent $11–14 billion. Regulators had their own agenda and were using soccer for its public relations strategy. Press releases criticized Brazil's economic and sociological policies on the world stage. The Brazil team over indexed its planning in response to criticism from regulators and news reports. Germany, on the other hand, being a visiting nation, had far less regulatory, social, and press issues and were able to focus just on the game.
Similarly, organizations should focus less on investors and press. Investors and press tend to be more like roller coasters that tend to exaggerate both successes and failures as well as shower praise and criticism in extremes. On the other hand, stakeholder input, self-evaluation, and customer anecdotes all tend to be steadier and more directed. Its variation is warranted since it serves as a more reliable indicator of performance. A champion team should give customer references, internal evaluations, and stakeholder feedback top priority.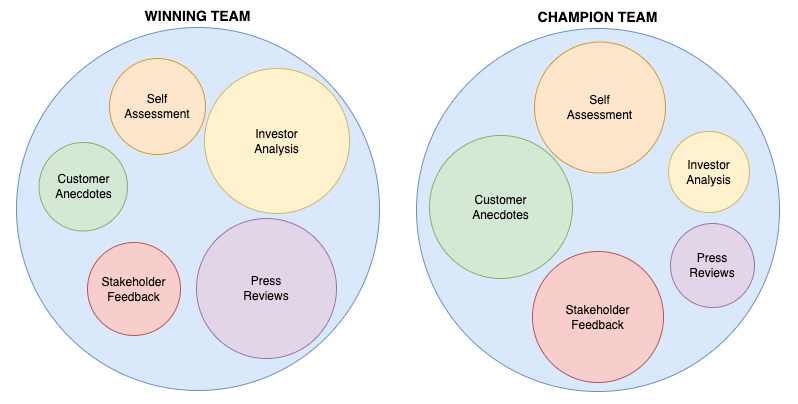 Conclusion
A champion team contains all the qualities of a winning team but maintains its focus and energy for prolonged success. Rather than sporadic bursts of energy, it reserves and spends energy in the long-term sustainability and success of an organization. Champion teams encourage teamwork and collaborate on creative ideas, understand responsibilities and the values of the firm. To create a champion team, organizations should not only provide employees with tools to improve their memory, problem-solving, and cognitive talents, but also routinely maintain and refresh their learning.
In order to keep its confidence in check, a champion team frequently confirms its training, refactors its code. It regulates impulsivity and does not rely on its prior triumphs. A champion team realizes that the "winning moment" experienced in the success of one project is only fleeting. Champion teams are excellent at managing data and information, investing in long-term sustainability rather than just the "winning moment."
Organizations should prioritize self-evaluation and customer stories while defining expectations precisely and determining requirements in advance. Champion organizations clearly define expectations and assess needs in advance, prioritizing self-assessment and customer anecdotes over investor feedback and press releases.