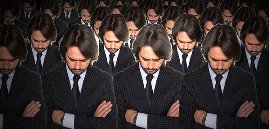 I think the great phrase "out of our comfort zone" describes how many of us feel when change jobs, even if it's to do a job we're entirely qualified to do. I think that is the reason many of us stick with jobs longer than we should; we're comfortable and we don't really want to be uncomfortable. That may sound bad, but I think it's just how we are, human.
What I've been thinking about in regard to this is how long does it take before you "fit in"? How long to get to the point where you're part of the team, understand the culture, and are back to being comfortable? What tricks are there to make it go faster?
I have a friend who changed jobs I think six or seven times in eight years before he finally found the right job and company. As part of that he became entirely comfortable with interviewing, and with fitting in to a new culture. His advice on joining a new company is pretty simple; listen a lot more than you talk. It works for him, I think on average within 60 days he's part of the team and moving forward.
I have some tricks of my own that I use when I join a team, all things that just require some observation:
Adapt to the team dress code. Yes, you want to comply with the corporate standards, but if everyone wears jeans, wear jeans. If you dress differently you're not 'fitting in'.
Learn how they communicate. Do they schedule meetings for everything, do they use instant messages (and if so, for what), and can you just pop in to see the boss if you want to?
Do what they do for lunch. It might be 30 minutes at their desk or in the break room, or going out as a group most days.
Watch before you form alliances. Who you hang out with will tell everyone else who you are.
Don't waste energy showing them how good you are (or think you are). Do the tasks, ask the questions, and no "look what I did" emails.
Offer to help anytime something has gone wrong. It doesn't matter if you know anything about it, they are under stress and a friendly voice is appreciated
How long does it take? For me I would guess its thirty days to get over the initial change, ninety days to either fit in decently or decide it's not the culture for me, and six months to really become someone who is there, no longer the new guy.
What about you? What tips do you have for joining a new team, and how long does it take for you to fit in?