In addition to the many people that work hard on SQL Server at Microsoft, there are a number of others around the world that have made outstanding contributions to the SQL Server community. So in addition to the Spotlight series on the development team, I'm also working on some profiles of those incredible MVPs that donate their time and knowledge to helping the rest of us out in newsgroups, with articles, blog posts, and even personal responses to emails at times.
This time I've taken some of Bob Beauchemin's time away from his busy travel schedule. I caught up with Bob to find out more about those SQL Server pros outside of Microsoft.
---
SSC:
What's you title and responsibility at SQLskills?
Bob:

My official title at SQLskills is Director of Developer Skills. I'm in charge of our SQL Server curriculum for developers, and develop and teach our series of developer courses. I also do database-related contracts from time to time.
SSC: What are the classes that you see as being in demand for SQL Server 2005?
Bob: All of the classes seem to be in demand. SQL Server 2005 was such a big change, there's something in there for everyone to learn.
SSC: What are the most popular skills or classes for SQL Server 2005?
Bob: There's more to learn about SQLCLR and XML because they're brand new, there's no body of knowledge to build on from previous releases. Same could be said about SSIS and the BI features in general because they're quite different than previous releases. Database mirroring, partitioning, and security seem to be popular with the DBAs. Tools cross over all the boundaries because they're all new. Only SQL Profiler even has the same name, and that's drastically improved.
SSC: As a developer, how do you like seeing the CLR embedded into SQL Server?
Bob: It's certainly an improvement over previous ways (XPs, xp_OA, undocumented system procedures) to do what the existing interpreted language doesn't do well: heavy computations, external access and non-traditional processing. But that's not the majority of what you do in an RDBMS. And I think I'd use the word "integrated" rather than "embedded". The internals of SQL Server (SQLOS) "know" about SQLCLR and vice-versa (hosting API extensions).
SSC: Do you see any issues from having this capability?
Bob: I think what most folks are concerned about is "feature abuse"; using a feature just because you can. With all the concern out in the open, this may an overrated concern. As an example, I'd heard a lot of talk about using SQLCLR to do data encryption early on. When the system defined encryption functions were introduced in beta 2, I haven't heard this use of SQLCLR discussed since. The problem was not one of which API to use, but how to protect the keys.
SSC: What part of SQL Server 2005 do you like the most?
Bob: "Like" is an interesting word to use with a software product. But I'd have to say snapshot isolation and the service broker features may be most useful in the long run. Reading Dave Campbell's paper on Service Oriented Database Architecture made me realize there is definitely an overriding theme to the features. But there's lots to like.
SSC:
Give us a little background on yourself, how did you get into computers?
Bob:
While I was attending college in the early 70s (I actually have a degree in Chemistry), I worked summers for Travelers Insurance doing odd-jobs in their computer center. Tape librarian, decollating and bursting, and the like. After graduating and finding few opportunities in Chemistry, I went back, took some courses, and got into programming. It was partially due to the proximity of "Computers" to "Chemistry" in the want-ads, and the plethora and computer-related jobs at the time. I've done nothing else but computers even since.
SSC:
Did you see yourself as a programmer/developer when you were growing up?
Bob:
Growing up, I had no idea what computer programmers were. I remember pictures of folks in suits with paper-tape readers is about all.
SSC: What was your first computer?
Bob: My first one was an IBM 360/40. You could boot it with a deck of punch cards, to bring up enough OS to change the IPL (boot) disk. The first computer I "had to myself" (to install software on) was the first IBM 4331 ever produced. But I don't think that what you're really asking. My first home/personal computer was a Commodore 64, followed almost immediately by an Amiga 1000. I remember being surprised that it came with a mouse, wondering whether or not to bother to use it. After making the pointer move with arrow keys for a day or two, I succumbed.
SSC:
How did you start working with SQL Server?
Bob:
I was working for a consulting company specializing in Microsoft technologies and had worked with Sybase programming before SQL Server was its own product. I moved to SQL Server in 4.21 because the company was porting a Microsoft Access 1.0-2.0 application to it.
That was my first SQL Server project, I've been involved with SQL Server ever since, in addition to doing contracts using other databases.
SSC:
Where are you living these days?
Bob:
I live in Portland, Oregon, have lived there since 1981. It's a nice place to live, same lovely weather (in the summer) as Seattle area, but quite a bit less traffic. In the last few years however most of the traffic I run into is going to and from the airport.
SSC:
What's your current favorite tech gadget?
Bob:
I'm not much of a gadget person, I'm afraid. Closest I've come to a gadget lately is a decent capacity MP3 player. I do like my music when I'm on the road.
SSC: Favorite musician?
Bob: That's a difficult one, would probably be Frank Zappa or Jimi Hendrix. And the folks my wife now calls "geezers of rock-and-roll". In the jazz genre, it's probably Yusef Lateef, a saxophonist. As far as "more contemporary" music, I've been catching up on ska and punk lately, but a favorite would probably have to be Green Day.
SSC:
What does Bob like to do when he's not working on SQL Server?
Bob:
When I'm home enough to tend it, I enjoy gardening, and have a nice garden in the back yard. Portland's a nice place to garden because its mild enough to have a garden in the winter, as well as summer. When I'm on the road I like going to museums, gardens, and zoos around the world. I've been to too many good ones to name lately.
SSC: What's the best museum you've been to? Why or which piece caught your eye?
Bob: Again there's so many. I've spent quite a bit of time and/or multiple visits to the Deutsches Museum in Munich, the Shanghai Museum, the British Museum, and of course the Louvre and D'Orsay in Paris, even though I don't consider myself much of an art aficionado. I remember an exhibit in the Deutsches museum of folks in suits standing around an old IBM mainframe ("The History of Computing"), and my wife laughing, "hey, there we are". 😉
SSC: What's in your garden?
Bob: (Blush) Right now, its only weeds and perennials. We had a new deck built last year (that changing the drainage around the garden area), and between that, the constant travel, and the rains this year, we haven't started on the summer one yet. I was just out there working on the raised beds. If it stays nice (TechEd week, when I'm not home is supposed to be sunny and warm) I'll have some short-season tomatoes in soon.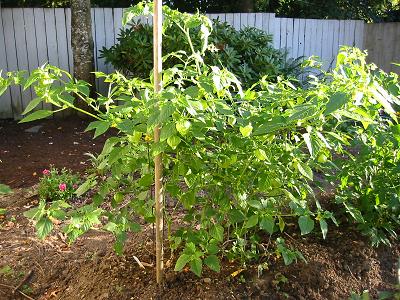 Bob's Garden in 2005
SSC:
What's your favorite event to attend for SQL Server news and knowledge
Bob:
I like SQLPass, although I may not be able to get there this year. TechEd usually has some excellent SQL Server content.