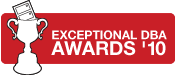 It could be you.
We kicked off our Exceptional DBA contest for 2010 last week, with the nominations opening at the Exceptional DBA site and continuing through June 4th.
This is our third year of running the event and I am looking forward to seeing the entries and judging the contestants again. think that it has been an award that our two previous winners are proud of and I'm hoping that there are a lot of you out there that will consider entering this year.
Being Exceptional isn't necessarily hard. The people that have been finalists in the past aren't setting world records in transactions per second. They're not developing T-SQL solutions that confound the gurus. They're not building the systems that change the world.
They're doing a great job, for sure, but they pay attention to the fundamentals. They get the job done, they mentor others, they share their knowledge, and they communicate well. They are solid employees of the type that all of us would like to have around.
My guess is there are a lot of you that discount your accomplishments as plain or ordinary. If you read Brad'sExceptional DBA book, you'll find out that the simple things, the common sense tasks, the basics are what are the most important. So take a chance, sit down with the nomination form, and develop some well thought out answers for your entry.
Who knows, maybe you'll be up on stage with me at the SQLServerCentral party at PASS.
Steve Jones
---
The Voice of the DBA Podcasts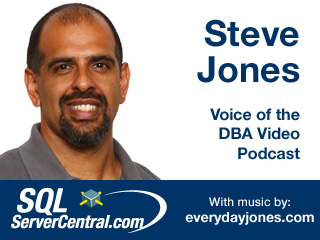 The podcast feeds are available at sqlservercentral.mevio.com. Comments are definitely appreciated and wanted, and you can get feeds from there.
You can also follow Steve Jones on Twitter:

or now on iTunes!
Today's podcast features music by Everyday Jones. No relation, but I stumbled on to them and really like the music. Support this great duo at www.everydayjones.com.