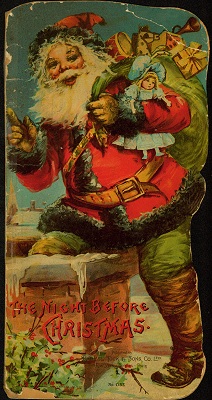 Twas the night before Christmas throughout the Data Center
The servers were humming, their lights were a flicker;
The racks were aligned, row by row, with great care,
The elves from the Ops Team were monitoring from there.
Children slept worldwide, due for a visit by Santa,
Heads full of Sugar Plums? Not in this era.
XBox and PlayStation; Wii and Gameboy,
Shorties no longer happy with a wooden pull toy.
But the big guy, he did accommodate,
Retraining his staff to facilitate.
Woodwork was outsourced to the South Pole Elves,
Labor much cheaper and their work lined the shelves.
They queried the data warehouse for their list,
The sleigh needed loading - toys couldn't be missed.
That data warehouse really saved their bacon!
Making sure toys kids wanted were what they were makin'.
The schema was simple - the size it was massive
Records for each child were stored in this Pensieve.
Facts and Dimensions of proportions unwieldy,
The host for this database was quite beastly.
Problems started when the server went a-faulty;
Add in the lack of high availability.
The server crashed at twenty-thirty-three,
Ops monitors lit up like a Christmas tree!
The North Pole Helpdesk's phones were all busy,
Elves calling in frantically from all points with inquiries,
"I'm trying to load for Chile," said Jangle,
"but can't query the kids_places_year table!"
"Until they get this system back up," said Sparkle,
"I'll go back to my cube and play some more Farkle."
"The Internet is down!" said a panicky sprite.
"What else could go wrong on this Night of all nights?"
Back in the Ops Center, Santa's Irish was up,
"Redundant hardware? Restoring the last good backup?"
"Fail over to the South Pole SAN. Can we restore there?
"Sorry Santa", said Bucky, "t'would take 'til next year!"
The hardware! The Software! The Network! The Wiring!
Antiquated at best. Someone needed firing!
"Disks are fine, just the power supply!", said Bucky.
Parts come from China, this was a break - but not lucky.
Inspiration came, from an old school source,
"We're back in Business", said Santa, "of course!"
"Get me Rudolph! That nose of his should suffice!"
"We'll use it for more than cutting through fog and some ice."
Rudolph was summoned and the news was quite good,
The system came live, deer power under the hood.
Queries were run, RFID tags were scanned,
Bags were stuffed and the sleigh loaded as planned.
Off Santa shot like a expertly-launched arrow,
This downtime's fallout could wait till tomorrow.
Bucky was crafting a list of his own;
"H-A is not cheap", he said with a groan.
Meanwhile, somewhere over the Arctic,
In a shiny red sleigh powered by magic,
Santa thought to himself, as he surveyed the sight,
"Christmas still came to all, on this most-stressful of nights!"
---
The Voice of the DBA Podcasts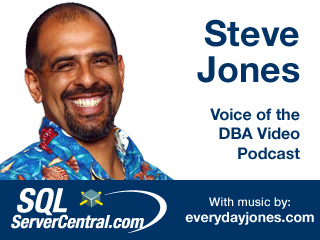 The podcast feeds are available at sqlservercentral.mevio.com. You can also follow Steve Jones on Twitter:

Overall RSS Feed:
or now on iTunes!
Today's podcast features music by Everyday Jones. No relation, but I stumbled on to them and really like the music. Support this great duo at www.everydayjones.com.
I really appreciate and value feedback on the podcasts. Let us know what you like, don't like, or even send in ideas for the show. If you'd like to comment, post something here. The boss will be sure to read it.