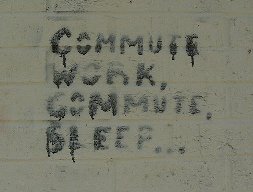 Today we have a guest editorial from Andy Warren.
Most of us get up in the morning and commute to work. For some us it might be a pajama clad walk to the home office, but most of us drive or ride the bus or subway for a few minutes to a couple hours. It's time we invest in order to have the job or the money or the career path we want. But how much are you willing to invest?
Over the course of my career I've had commutes that ranged from 5 minutes to 1-1/2 hours, with the average being around 15 minutes. Five minutes is great, though I think that a 15-20 minute drive is probably the best, it gives me a few minutes to transition to "work mode". I think hard about any commute over 30 minutes. It's rare that I get paid for that time and it's time and energy that should be going to family, so it takes something pretty interesting to get me to exceed my self-imposed 30 minute threshold. For me the 1-1/2 hour drive was at (or past) the limit of something I could do on a daily basis for any length of time, and I ended up working remote a couple days to balance it out (though it still didn't seem balanced somehow). I've talked with people that commuted as much as 2 hours one way. Four hours a day in a car (or any other mode of transportation) is hard to imagine.
For me it's the 30 minute rule. What about you? What factors do you consider when looking at a new job and the commute? Is it just the commute time, the method of commuting, the kind of commute (light or heavy traffic)? Do you factor in the cost of fuel and wear and tear (and the possibility of fuel prices increasing rapidly)? Do you consider the time spent commuting part of work and do you consider that time as you look at the offered salary?
Let's have a great discussion!