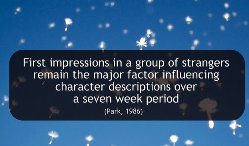 I'm sure you've all heard the saying that first impressions count. We tend to think of first impressions in the context of interviews or big introductions, but we make first impressions on people all the time, and they make impressions on us. It can be intimidating to realize that we're being assessed in the span of a few minutes. It's also necessary for us to assess other people; we have to have some mental model of who they are.
I take those first impressions of people I meet with a grain of salt. Usually I get a pretty good idea of who they are, but I also know that I rarely get a perfect view – it's more like of a blurry image. Sometimes it is just wrong. The next few times I connect with that person I try hard not to let that first perception define them. It's a starting point, and gradually I get to the point where I feel like I do have that crystal clear vision of who they are.
Doing that has made me better at doing the first assessment, and it's saved me more than once from the mistake of putting someone into the wrong category.