Introduction
Azure Synapse Analytics combines data integration, enterprise data warehousing, and data analytics. It is a cloud-based limitless data integration and analytics platform. It provides a cloud platform to create data pipelines from various sources and SQL Pools used to store data for further data analytics requirements. Before using any Azure service it is recommended to know the pricing factor of various components. Today, I will discuss Azure Synapse Analytics Pricing.
Pre-Purchase Plans
Azure calculates these pre-purchase plans based on Synapse Commit Units (SCUs) By choosing pre-purchase plans customers can save up to 28% which needs to be used in any Azure products under Azure Synapse (excluding storage) for 12 subsequent months. The SCUs can be used for below Synapse services:
Azure Synapse Analytics Dedicated SQL Pool
Azure Synapse Analytics Managed VNET
Azure Synapse Analytics Pipelines
Azure Synapse Analytics Serverless SQL Pool
Azure Synapse Analytics Serverless Apache Spark Pool - Memory Optimized
Azure Synapse Analytics Data Flow - Basic
Azure Synapse Analytics Data Flow - Standard
The below table shows the pre-purchase plan for specific tiers and Synapse Commit Units (SCUs):

Data Integration
You may have one or more activities in your data pipeline. Azure pricing is applicable While running pipeline activities and it is calculated based on integration runtime, You also pay for data pipeline orchestration by activity run and data movement activities.

Data Flow charges
Data Flows are an important part of Data pipelines. You can design various data transformations without writing any code. Azure charges the Data Flow cluster execution and debugging time per vCore-hour and is prorated by the minute and rounded up.

Operation charges
Data pipeline operations including create, read, update, delete, and monitoring incurs cost. The first 1 million operations per month are free after that Azure charges $0.25 per 50000 operations.
Data Warehouse
Azure Synapse Analytics provides two types of SQL resources - Serverless Pool and Dedicated Pool. You can use the same T-SQL experience to query data from a data lake or data warehouse.
Serverless
Serverless SQL allows you to run T-SQL to query data from data lake storage. You need to pay for executed queries and the pricing varies based on the amount of data processed by each query. A minimum charge of 10 MB is applicable for each query and it is rounded up to the nearest 1 MB. There is no cost for DDL statements.

Dedicated
Azure Dedicated SQL is an enterprise data warehouse solution for end-to-end big data solutions, it used distributed query engines for high-performance analytics. The pricing for dedicated SQL is based on Data Warehousing Units (DWU). The below table shows the pricing for different DWU levels: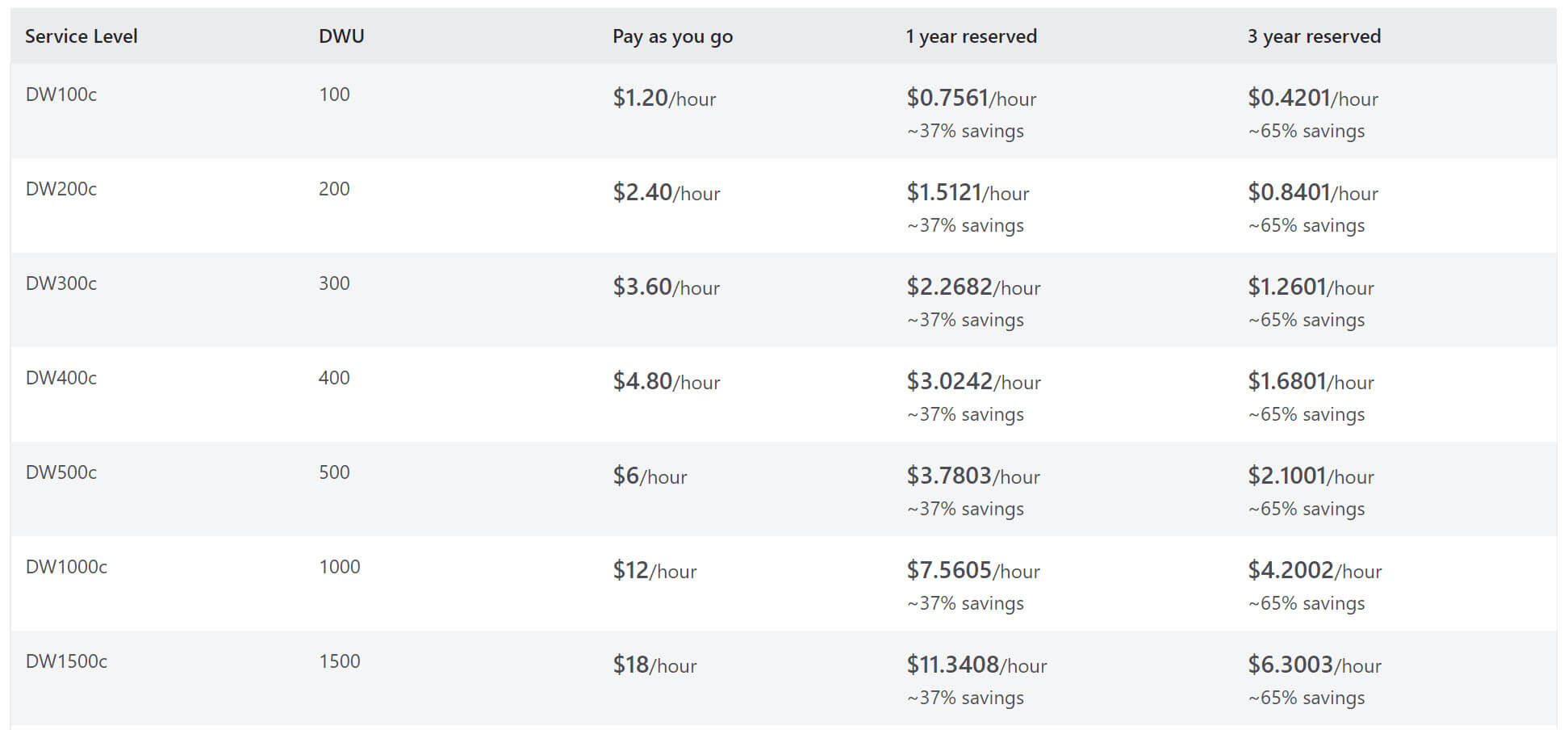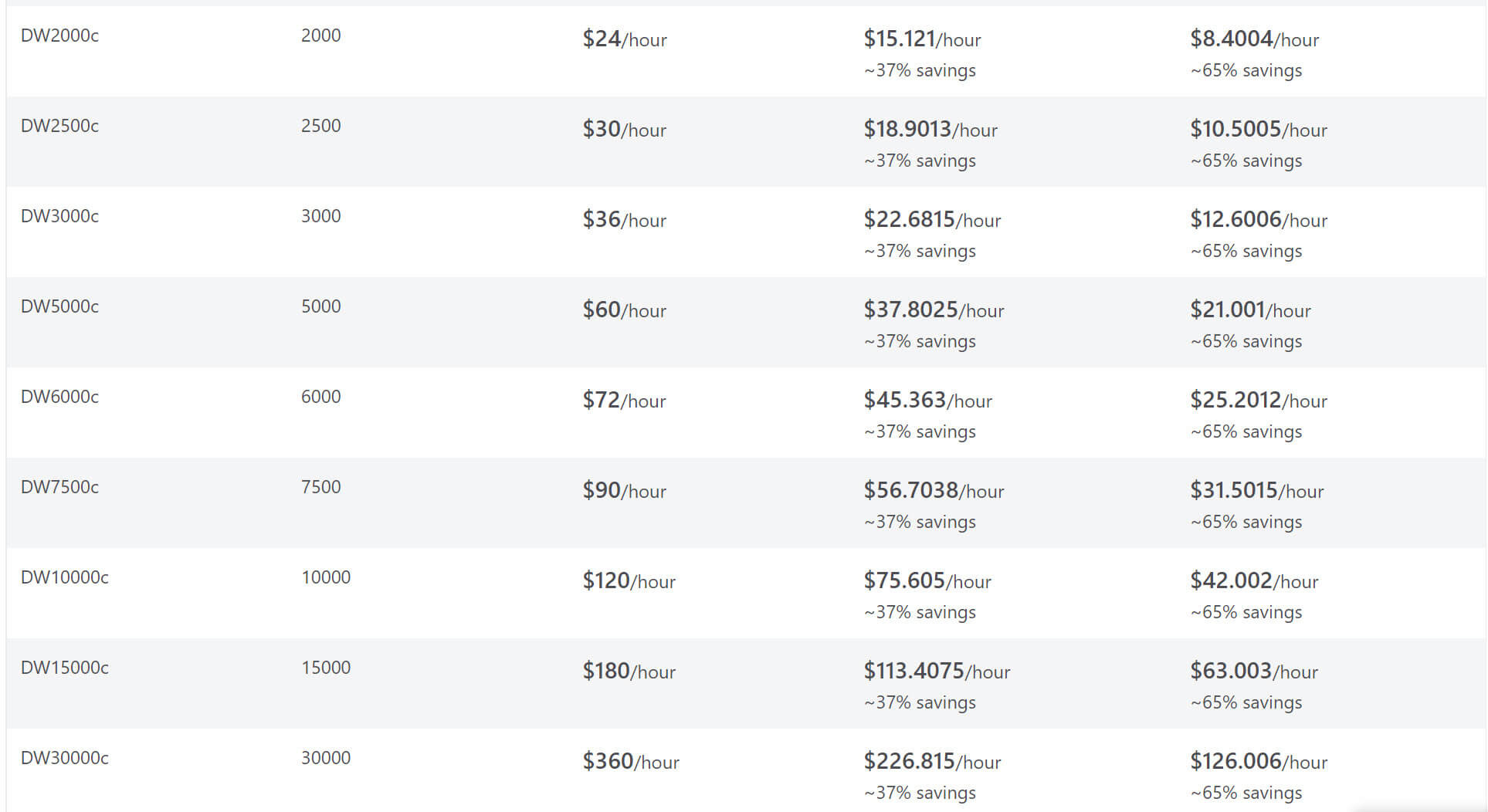 Big Data Analytics
Apache Spark pools are used for big data processing tasks. The below table shows the pricing of Spark pools, which is charged per vCore-hour and rounded up to the nearest minute.

Log and Telemetry Analytics

Azure Synapse Link
You can connect Azure Synapse Analytics with an operational data store to enable near real-time analytics. Currently, Synapse Link is available for Azure SQL database, SQL Server, Azure Cosmos DB, and Dataverse. Azure Synapse Link for SQL charges per vCore hour as below:

Conclusions
Note that Azure prices are estimates only and they may vary with actual price quotes as it depends on regions, agreement with Microsoft, date of purchase, and the currency exchange rate. You can save costs by pausing the SQL pool whenever it is not required. You won't be charged for compute until you resume the SQL Pool.