I am up in Redmond at the annual MVP Summit, where all Microsoft MVPs get treated to a three day conference on the Microsoft campus. It's an event where MVPs interact various Microsoft employees and end up blogging about how NDA talked NDA and the NDA that might will be coming in NDA version of the NDA software.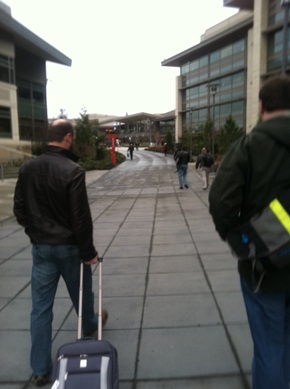 I'm joking a little as the information presented is bound by a strict NDA, and not much can be passed on by MVPs right now. At some point most of what we learn will be released to the public, but for now it's private information. I know that's annoying, and I found it incredibly annoying, but I will tell you a little something about this Summit that you might care about in a minute.
The picture above shows me following Kevin Kline (blog| @KeKline) onto the campus after being dropped off at the bus. And the picture below is as far as I'm comfortable sharing what I saw.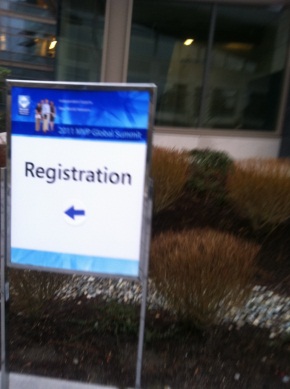 So what can I share about the Summit? The biggest thing I can tell you is that the SQL Server MVPs are arguing passionately for a better product. They are talking with Microsoft employees, often criticizing and explaining what is wrong with the product, and what should be fixed. They sometimes don't balance that well with complements, but their goal is to get software that is better written, with more features, and solves the problems that most of us face on a regular basis.
Just like most of you, the SQL Server MVPs are DBAs, developers, consultants, and other SQL Server professionals that enjoy working with SQL Server. They may promote the product as a good solution, but it's not as some shill trying to stay in Microsoft's good graces. In fact, I would guess there are more than a few developers that Microsoft that cringe at the thought of getting up in front of the SQL Server MVPs and trying to present information. It's a room full of intelligent, outspoken alpha geeks that are quick to pounce on speakers and demand excellence in the finished product.
The SQL Server MVPs are your representatives and liaisons to the SQL Server team at Microsoft. They have the chance to express the concerns and desires of the rest of you directly to the product developers more often than the average customer. So the next time you see an MVP at a user group, SQL Saturday, or somewhere else, let them know what you would like to see changed in SQL Server, what could be improved, or maybe a wish list of things to add. You can influence the people that have a little influence with Microsoft and perhaps make a difference.
Steve Jones
There was a fun article on the tweets coming out of the Summit from ZDNet. If you want to follow along with the comments at the Summit, there is a very active hash tag on Twitter, #MVP11.