The 2007 PASS Summit was held in Denver, CO in September and SQLServerCentral.com was there for the week. We had brought a few people to the Summit, and they gave us some great writeups on the events. I've included a few links below to various blogs.
Tuesday
Opening Day was Tuesday. There isn't much going on this day, but here's a few notes:
Wednesday
Thursday
Friday
Overall Impressions
The conference is a great time for you to learn about SQL Server and network with others. And it's not just for jobs; you might make a friend you can call on to help you solve a problem at some point with your current job. If you see something interesting to your boss, be sure to send it along. It might help you budget for next year!
My View
I thought I'd take a few minutes and talk about the event from my perspective. I've included a few photos as well that you might enjoy.
The event starts Tuesday night with the PASS opening reception, a happy hour type event with lots of food and adult beverages. PASS usually does a type of game show event (shown below) and people seem to enjoy it. Since the SQLServerCentral.com reception takes place right after this, I rarely see much of it. I popped in for a beer and than conscripted a few friends to carry boxes.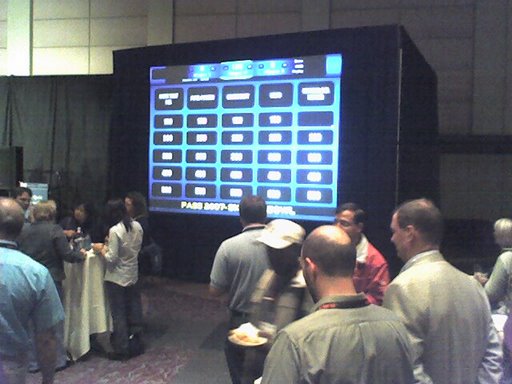 PASS Jepoardy Photo by Michael Lato (DataTamer)
The SQLServerCentral.com Reception is the big event for us every year. This is the fifth year we've done it and it's always a good time. We have lots of prizes, most of which are randomly given away. As you can see below, we have quite a few of them. With a fairly large budget and no reason to do anything more than spend it, I try to get something for every third person or so. We gave away lots of DVDs this year, and depending on feedback, we may change that a little next year.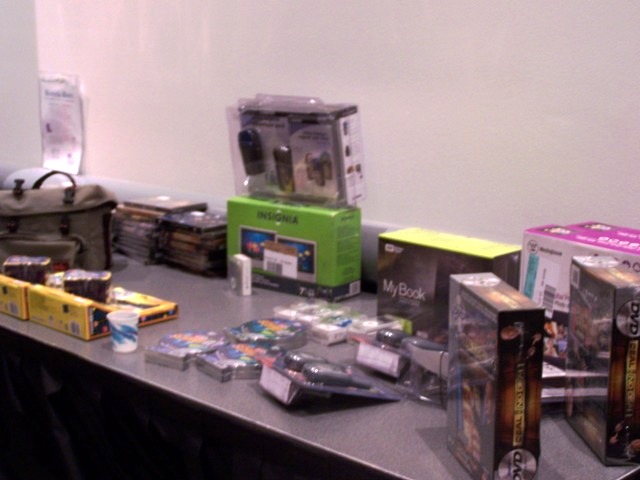 Most of the time I wander around chatting with people and giving away prizes. Here I am, with an official SQLServerCentral.com Hawaiian shirt.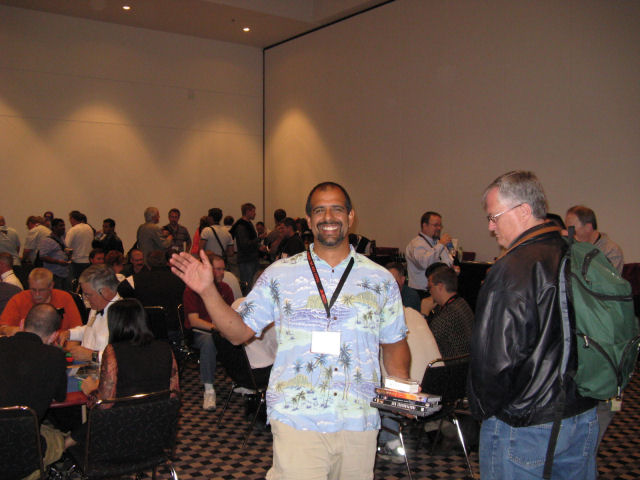 That's Tom Norman of the Denver SQL Server Users Group trying to turn away and hide. There were a number of poker and blackjack tables along with a craps and roulette set up. I've love feedback on those games as we'll probably do something similar for next year. I had good luck with a company last year in Seattle, so I'd like to call them again.
Our party goes on until 9:30 and we gave away some great prizes to the top money winners. I think our first place person chose a Garmin GPS unit and second place got the double DVD player. Apologies for not grabbing the names, but I was beat by that point with way too little beer and thinking about my commute home.
Wednesday
I didn't catch most of the keynote, needing to get some work done and drop off my dog at the vet, but I did have a chance to chat with a few people. I did get to a couple sessions, one of which was very disappointing, and learned a few things. However much of the afternoon I spent talking with people walking through the convention center. That's one of the highlights of my week at PASS; getting to chat with people from around the world and understanding how they view the DBA world.
Unlike TechEd, which I usually attend, it seems there are many fewer people here working, on the phone, or skipping out on sessions. Many of the sessions are packed, with standing room only, and most people seem to take the event seriously.
Wed night is the opening of the expo and dinner is server around the vendor booths, allowing you a chance to interact with the vendors and see what products might help you with your work. Afterwards, Wed night typically has a few parties set up at various restaurants around the area. I usually go to the sqlSentry party as I'm good friend with those guys and have known them for years.
Thursday
Another good day of sessions, though again I missed out on the morning sessions because I stopped to chat with a few of my authors. Afterwards I went to the expo and spent some time after lunch talking with people I know at various vendor booths. It's a quiet day before they pack up and leave, so I use this time to see what's new in their world.
Thursday night is typically another party night, this year the Quest party semed to be the one many people were looking to attend. For me, it was a chance to get together with the Boulder User's Group, or at least a few regular attendees and have dinner. We enjoyed a relatively quiet dinner, and more discussion about life and DBAs.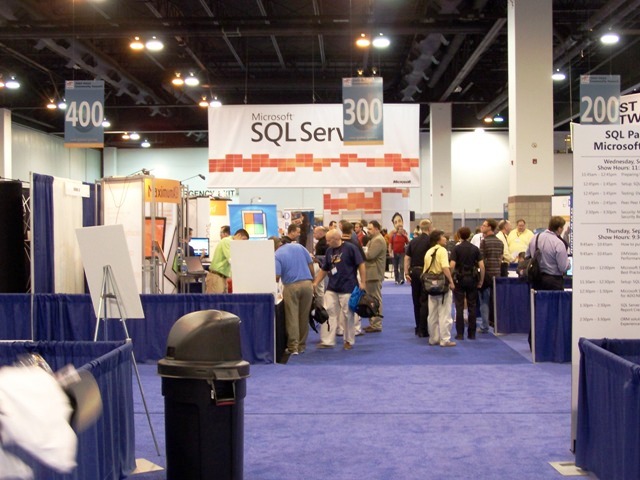 Friday
Friday is a quiet day. I went to a few sessions, actually about 4 in the morning by popping in and out of a few. Since the sessions are on audio later, it's a good chance for me to check out a few and see which ones I might be interested in hearing later. Actually I know it might annoy people, but if you really are motivated, I'd recommend you try a few sessions each time and mark them on your schedule to listen to later in full.
This year I had to leave early to grab kids for cheerleading and scouts :), after being gone all week, but usually it's a quiet afternoon, some repeat sessions and the last chance to see people for the year.
Why Attend?
Well of course the SQLServerCentral.com party is the best reason to go. But more, I can't stress the chance to unwind, learn, and recharge in an atmosphere conducive to you getting excited about SQL Server and your job is incredibly valuable. It's a short conference, so you don't get burned out like a week at TechEd can cause. It also is so tightly focused on SQL Server that you don't end up sitting next to an Exchange or AD person at lunch.
If you are a BI person, especially in management or working with business people, I'd really recommend you go to the Microsoft BI Conference instead. It had a similar feel to PASS, it's small, short, but really focused on BI. It didn't seem quite as technical in some ways, but I bet they fix that for next year.
If you're a DBA, or a consultant, then PASS is the place to go. Especially next year in Seattle as they'll be literally hundreds of SQL Server developers coming over from Microsoft. This is the chance to learn how things work internally or ask a few questions about problems you have.
And most importantly, if you attend, I'd really recommend you just sit at some tables during lunch and just chat with people next to you. Especially if you don't know them. You never know what you might learn.