The Lighter Side - Life is like an analogy
On occasion I have been criticised for using analogies to describe the software development process. "Software development isn't like analogy X" I'm told "and therefore your analogy is flawed"!
In November this year we celebrate the 200th anniversary of the birth of Alphonse Karr, the French critic, novelist and journalist who observed that "the more things change the more they remain the same". With this in mind I thought I would try an experiment to see if the changed world of software development is indeed like nothing else, or whether monsieur Karr's words apply to us as well.
To give the analogy haters a fair chance I asked myself "what could be most unlike my work in software development"? The inspiration came from my 3 kids and their need for entertainment in the Easter school break. I would attempt to plan a day out using the traditional software development methodologies.
Requirements gathering
With a subscription to "The Discovery" channel and living within walking distance of Jodrell Bank the response to the question "what would you like to do in the school holidays" should have been predictable.
So we have one technologically impossible and the other financially infeasible. At least we are starting on familiar territory!
Analysis of requirements
I've got the gist of the requirements so now all I have to do is find a practical solution that best fits the requirement. After some investigation I came up with the UK National Space Centre in Leicester. It's a round trip of 170 miles and quite expensive for a day trip but its just about possible.
After presenting the solution to my "users" and receiving responses that were not actually hostile the next stage was to get management buy-in.
Experience has taught me that you are only as good as your most recent projects and thus if you suffer a run of project failures management are likely to be much more critical of your solutions than they would otherwise be. Fortunately for me I had provided a quality deliverable on February 14th so managerial approval was granted with a hint of benign indulgence.
Implementation
If you have ever tried to run a project you will know that the two most stressful points are at the beginning and at the end.
Trying to get everyone together at the same time and making sure they have the right equipment is something to challenge even the most stoic amongst us.
Eventually the process of implementation begins although progress can be slower than expected. Pace slowly builds up until development ticks over at a rapid and fairly constant speed.
In my case having cleared Stoke-On-Trent I was cruising at a respectable turn of speed down the A50 to Derby and eventually onto the M1 down to Leicester.
If you ever travel the road you will know that while the driver is aware that they are travelling at a fair turn of speed the terrain is such that to the passengers there is little to indicate progress. Boredom ensues and manifests itself in demands for frequent progress reports and other distractions from the business in hand.
The devil finds work for idle hands and in this case there was some particularly vicious infighting that threatened the whole project.
As usual one bored member threw his toys out of the cot resulting in much needless distraction and stress all around.
Eventually the end is in sight but as ever there are always some unexpected hurdles to overcome. In this case it took the form of
the Leicester ring road. Eventually though you will reach your destination and are ready for user acceptance testing.
Verification
Once you have handed over your deliverable to users your fate is in their hands. Naturally you are proud of what you have delivered.
After all, you have put in much time and effort into producing a quality deliverable and want to show off the bits you really feel are
cool.
This is a mistake. At best your customer will make polite but unenthusiastic noises at worst they will get fixated on something
of minor importance to the exclusion of all other considerations. This is bad for your morale and you can start to feel
pretty much unappreciated.
On the whole it is best to keep quiet and be satisfied that you have done the best that you could.
Change Requests and Scope Creep
The National Space Centre in Leicester has obviously had a large amount of money invested in it and for adults with kids it represents a good day out.
On the way out I noticed that next door was a Victorian Pumping Station that offered free admission. As I had driven 85 miles it seemed a good idea to squeeze this in as a feature of the trip. Inside the massive old steam engines still function and for a free museum it is pretty good.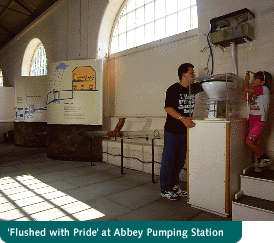 Against one wall is a cut away model of a toilet that can be flushed to demonstrate the way water flows down the pipes to the water treatment plant. The kids spent two hours playing with it!
Post Implementation Review
A lot of time, money and energy went into the "project". At times things were difficult but the result was a quality deliverable.
But at the end of the day the thing that most impressed the users bore no resemblance to their original requirements.
85 miles there, 85 miles back, a severely depleted budget and all they want to do is chase an artificial turd down a pipe.
Frankly if you don't think this is a good analogy for software development then I don't know what is!