Did you know that the mean salary of a MCSE certified professional is $65,100, well above the industry standard (source MCP Magazine)? That's not including the
long term benefits such as bonuses and promotions. No salary surveys have been conducted by Microsoft as of today for MCDBA certification. With the limited amount of
MCDBA certified DBAs though, the demand far by out weighs the suply.
The path to obtaining your MCDBA is a long and rigorous one. You come two test away from obtaining your NT 4.0 MCSE certification.
Below is the NT 4.0 path for gaining your MCDBA certification. The graph is in the order
I would recommend taking your test in: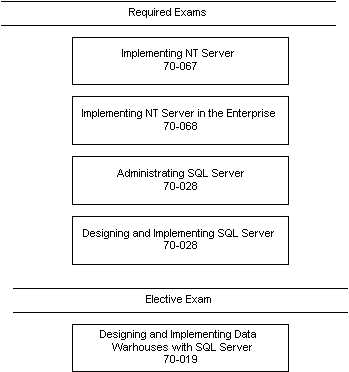 There is also a Windows 2000 certification path for your MCDBA. After obtaining your 4.0 certification, you can upgrade your 4.0 MCSE test with one upgrade test (70-240).
The reason I suggest taking your NT tests first is that they are much simpler than the SQL Server test. Also, you will see quite a few questions on each of your SQL Server test that are NT related.
Without a good understanding of RAID configurations and the NT tools, you will not be able to pass the SQL Server tests.
The NT Server is the simplest of the NT tests. It covers mostly the tools in a small network environment. There are a few situational questions, but it easy compared to the NT Server in the Enterprise, which
has about a third of its questions as situational questions.
Microsoft changes from Adaptive test to Normalized test monthly it seems. Adaptive test usually range from 25-35 questions and
change as you take them. Adaptive test will find your weakness and ask you question after question in that area. Normalized tests ask you the same random questions whether if you miss a question or not.
The best tool I found to study were the sample Transcender tests.
They are a good learning tool because they will not only quiz you, but they will tell you why you're why the answer is right or wrong.
You also have the option in the test to choose a random test, where you can select your weakest point and quiz yourself until you memorize it.
There is much discussion about "braindumps". Braindumps are when someone leaving the test "dumps" all the questions and answers onto a webpage for viewing.
I would not recommend these studying practices because the validity of these tests. Test takers are writing down questions and answers from the same memory that just took a 2 hour test.
The one I've seen a number of wrong answers on them as well that would lead their users in the wrong direction. There is also one more reason why not to use them-they are against the Microsoft non-disclosure agreement before the test.
If you happen to use these, make sure you read each question and think about it yourself before believing what the author put as the answer.
Good luck taking your tests! The best book I've seen so far if you're learning SQL Server is Professional SQL Server 7.0 Programming by Robert Vieira.
It is the most complete book for SQL Programming and administration.