A diagnostic tool for identifying Performance features of active SQL Queries. It collects performance detail from DMVs for queries with executing requests and is designed to demonstrate and quantify Query Shaping optimisation techniques by:
quantifying query workload and throughput characteristics
providing behavioural descriptors of potential performance inhibitors - refer column ThrottlePotential
The ThrottlePotential column is populated using a behavioural parser and attempts to provide insight into the following - including parameter sniffing issues: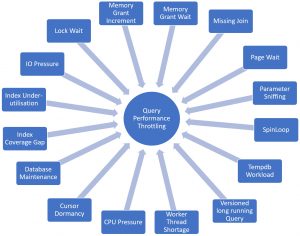 Server related metrics are displayed in the Messages tab of SQL Server Management Studio.
This stored procedure is designed to work with SQL Server 2008 R2 and higher.
Optional Parameters:
@ParamSniff
Parameter Sniffing sensitivity multiplier:
< 1.0 (more hits)
= 1 or NULL (DEFAULT)
> 1.0 (less hits)
Must be within the range of 0 to 2.0 otherwise will default to 1.0
@SessionLocks
Toggle off/on session locking detail displayed in column SessionLocks:
= 0 or NULL  (DEFAULT is off)
= 1
A value of 1 will retrieve locking detail from sys.dm_tran_locks increasing performance overhead.
Example Usage:
EXEC dbo.sp_PerfSQ
GO
EXEC dbo.sp_PerfSQ @ParamSniff=0.75, @SessionLocks=1
GO