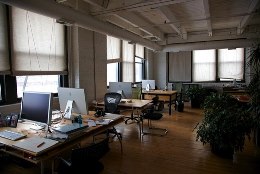 I've written about offices I like in the past. I've worked in a variety of offices, and having telecommuted for the last decade, I find that I mostly prefer a variety of environments. I have a standing desk, where I do most of my work, but I often find myself moving to another room with my laptop to work in a quieter, or louder, environment. I work at a coffee shop, in hotels, even in the car at times. It seems like I might be working too much, but I think I have a good balance between life and work. I just find myself working for short stretches in very disparate environments as I wander through life.
For me, the ideal environment has varied according to the job that I did. Software development seems to require more quiet and separation than operational work. The more I coordinate with others, the more I like an open floor plan. The more I have to concentrate on my own work, the more I prefer a peaceful, solitary environment. As a DBA, I've had to work in both environments and I've had my own office, a shared office, a hot desk, and an open plan. I often haven't had a choice of the arrangement in most jobs, so it's a good thing I'm adaptable.
I ran across a piece that looks at the history of the open and closed office, as well as different ways or organizing desks. There are great pros and cons in the article for each setup, and the compromises people make. This week, I'm wondering what many of you would like your arrangement to be.
What would be your ideal office work environment?
Would you prefer an open plan? A closed office? A hot desk arrangement that incorporates both of these? Do you want public spaces at times and private locations where you can get solo work done if you need it? If you have preferences, or comments about your current setup, let us know today. Maybe we can design a few "ideal" office spaces together.
Steve Jones
---
The Voice of the DBA Podcasts
We publish three versions of the podcast each day for you to enjoy.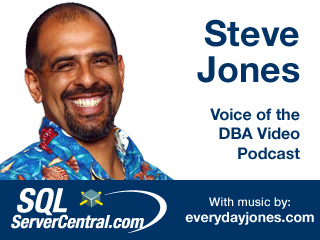 The podcast feeds are available at sqlservercentral.mevio.com. You can also follow Steve Jones on Twitter:


Today's podcast features music by Everyday Jones. No relation, but I stumbled on to them and really like the music. Support this great duo at www.everydayjones.com. They have a great version of Message in a Bottle if you want to check it out.
I really appreciate and value feedback on the podcasts. Let us know what you like, don't like, or even send in ideas for the show. If you'd like to comment, post something here. The boss will be sure to read it.