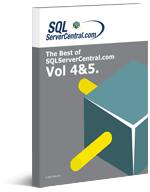 Best of SQLServerCentral, Vols 1-4 by SQLServerCentral.com Authors

(1st Edition, November 2007)
---
" This is a community that includes all of you, and we aren't looking for only the "gurus" to contribute. We love hearing about the real world you all live in and deal with on a daily basis, and Best of SQLServerCentral vol 5 represents some of the best contributions to SQLServerCentral.com in 2007.
"
– SQLServerCentral.com authors
---
View Related Books:

to SQL Server 2008
---
Editorial Review
The Best of SQLServerCentral v1-4 pulls together some of the best, most popular, and the most read articles of 2002 - 2006 in digital format,
covering database administration, BI, ETL, design, security, T-SQL, XML and much more besides. We've pulled together all 4 books, in their original formatting, and made them available so you can complete your SQLServerCentral archive.
The Authors
Alex Grinberg,
Alex Kersha,
Alexzander Nepomnjashiy,
Ameet Phadnis,
Amit Jethra
Andre Quitta,
Andre Vigneau,
Andy Jones,
Andy Warren,
Anthony Bressi
Anubhav Bansal,
Aries Manlig,
Ashish Kaushal,
Bob Musser,
Brian Kelley
Brian Knight,
Bruce Szabo,
Cathan Kirkwood,
Chad Miller,
Charles Hawkins
Chris Cathers,
Chris Cubley,
Chris Kempster,
Chris Rock,
Christoffer Hedgate
Christopher Duncan,
Dale Elizabeth Corey,
Daniel Gallagher,
Darwin Hatheway,
David Poole
David Sumlin,
Denny Figuerres,
Dinesh Asanka,
Dinesh Priyankara,
Don Church
Don Frazier,
Don Peterson,
Eli Leiba,
Frank Kalis,
Frederik Vandeputte
G Vijayakumar,
Gheorghe Ciubuc,
Goce Smilevski,
Grant Fritchey,
Greg Robidoux
Gregory Larsen,
Haidong Ji,
Herve Roggero,
Hugh Lynch,
James Greaves
James Luetkehoelter,
James Travis,
Jayram Tallamraju,
Jeff Moden,
Jeffrey Yao
Jereme Guenther,
Jeremy Kadlec,
Joe Sack,
Jon Reade,
Jon Winer
Jonathan Stokes,
Joseph Gama,
Joseph Sack,
Kathi Kellenberger,
Ken Powers
Kevin Feit,
Kevin O'Donovan,
Krishna Sonti,
Kristian Wedberg,
Leo Peysakhovich
Leon Platt,
Les Smith,
M Ivica,
M. Choirul Amri,
Mark Nash
Mattias Fagerlund,
Michael Coles,
Mike Pearson,
Morten Wittrock,
Nagabhushanam Ponnapalli
Nanda Kishore,
Narayana Raghavendra,
Neil Jacobson,
Neil Weicher,
Nicholas Cain
Patryk Nowakowski,
Paul Ibison,
Peter He,
Peter Ward,
Rahul Sharma
Raj Vasant,
Rama Nageshwara,
Ramesh Gummadi,
Ramunas Balukonis,
Randy Dyess
Ranga Narasimhan,
Rob Scholl,
Robert Davis,
Robert Marda,
Robert Pearl
Robin Back,
Roy Carlson,
Ryan Randall,
Sanket Naik,
Santveer Singh
Satia Madimchetty,
Sean Burke,
Sean McCown,
Serhiy Snisarenko,
Sharad Nandwani
Shiv Kumar,
Sloan Holliday,
Sotiris Filippidis,
Stefan Popovski,
Steve Jones
Steve Moore,
Subramanyam Krishnamurthy,
Suresh Maganti,
Sureshkumar Ramakrishnan,
Sushila Iyer
Terry Troisi,
Thomas LaRock,
Tiago Andrade e Silva,
Tim Chapman,
Tim Mitchell
Tom Lodermeier,
Tom Osoba,
Viktor Gorodnichenko,
Vince Iacoboni,
Vinod Kumar
Wayne Fillis,
Wes Brown,
Zach Mattson
---
Book Details
Paperback: 991 pages
Publisher: Central Publishing Group