High Performance SQL Server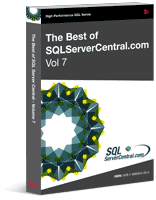 The Best of SQLServerCentral.com, Vol 7 by SQLServerCentral.com Authors

(1st Edition, November 2009)
---
Download eBook (PDF): Free
Printed Book: $29.99
---
SQLServerCentral.com brings you a variety of articles on all aspects of SQL Server from administration to XML and everything in between. Our articles are written by real DBAs and developers, based on the articles and scripts they use in their daily work. And this book is a collection of the best articles we've seen from the past year from over 50 authors.
View Related Books:

vol 6

Vol.5

Compendium
---
Editorial Review
SQLServerCentral crossed a million members this year and once again we are reprinting some of the best articles, the most popular, and the most read in dead tree format. We wanted to give our authors a chance to see their names in print as well as give you an off-line resource that you can take with you wherever you may need it-most likely at your bedside to help you drop off at night :), for commutes, holding your coffee cup, whatever. This is our seventh volume and it's become an annual tradition.
We would also like to thank everyone for their support both on the website as well as by purchasing this book. Your visits to the site, clicking through to advertisers, purchasing products, registering for PASS, all help us continue this community and provide you with a valuable resource that hopefully helps you learn, perform better at your job, and grow your career. We'd like to encourage all of you to submit an article in 2010!
This is a community that includes all of you and we aren't looking for only the gurus to contribute. We love hearing about the real world you all live in and deal with on a daily basis. We try to get at least one article from each author and send you a couple copies of the book. That wasn't possible this year with the economy down and a record number of authors writing content this year. However that should encourage all of you to work a little harder next year and write something great. A couple hints: real world situations and basic content on one focused area go over the best.
These are great for your bookshelf and they make a great Mother's Day present. Think about sending something in next year. Once again, thanks so much for your support and we look forward to another volume next year.
Steve Jones
Table of Contents
SQL Server Preproduction Tasks
Scope: The drastic caveat with Logon Triggers
The Date Dimension in Analysis Services
SCOME - Centralize Monitoring with ASP.NET - Part 1
Monitoring Changes in Your Database Using DDL Triggers
Imaginative Auditing with Rollback (Undo) and RollForward (Redo) Part I
9 Things to Do When You Inherit a Database
Cursors for T-SQL Beginners
DAC - What to Execute when Connected?
Getting a Clue about Your Databases
Ordering Tables to Preserve Referential Integrity
Creating a recycle bin for SQL Server 2005\2008
Using SQL Profiler to Resolve Deadlocks in SQL Server
What SQL Statements Are Currently Executing?
Duplicate Records using SQLCMD
Automating Excel from SQL Server
Moving Indexes
On Indexes and Views
Missing Indexes in SQL Server 2005
Using the Script Component with Multiple Outputs
SSIS and Stored procedures using temp tables
SSIS Custom Error Handling
Simple Steps to Creating SSIS Package Configuration File
Using Checkpoints in SSIS (Part 1)
Reporting Services: Read Data from SSAS and SQL Server in One Dataset
SQL Server 2008 Mirroring Testing
On-Call Duties
Configuring Replication for Partitioned Tables Using T-SQL
Performance Implications of Database Snapshots
Filtering Unneeded Dimension Members in PerformancePoint Filters
Powering up DTS with PerlDTS
Loading Data with Powershell
Add Styles to Your Reporting Services Reports
Configuring Kerberos Authentication
Use Operations Manager to Monitor Your SQL Agent Jobs
Oracle for the SQL Server Guy - Instances and Databases
Default trace - A Beginner's Guide
Streaming Data into SQL Server 2008 from an Application
SQL Server 2008 and Data Compression
The FILESTREAM Data Type in SQL Server 2008
Investigating the new Spatial Types in SQL Server 2008 - Part 1
SQL Server 2008 SSMS Enhancements - Debugging Support
Deploying Scripts with SQLCMD
Real-Time Tracking of Tempdb Utilization Through Reporting Services
Transparent Data Encryption (TDE) SQL Server 2008
Introduction to DML Triggers
Troubleshooting
SQL Server 2005 Paging the Holy Grail
Hierarchies in SQL
ROW_NUMBER(): An Efficient Alternative to Subqueries
There Must Be 15 Ways to Lose Your Cursors... part 1, Introduction
Generating Insert Statements
Dynamic SQL Merge
Test-Driven Development of T-SQL Code
Automating tests for T-SQL code
Database Server Upgrades the Plan, the Template, and the Task List
Split string using XML
Celko's Summer SQL Stumpers: Prime Numbers
Basically Available, Soft State, Eventually Consistent
Managing Free Space
The Authors...
Aaron Akin Adam Aspin Adam Haines Alceu Rodrigues de Freitas Junior Bennie Haelen Bill Richards Boyan Penev Brian Kelley Chad Miller Chris Kinley David Dye David McKinney David Poole Deepa Gheewala Divya Agrawal Drew Salem Francis Rodrigues Gail Shaw Glen Cooper Glen Schwickerath Gregor Borosa Gus "GSquared" Gwynne Ian Stirk Jack Corbett Jacob Sebastian Jagan Kumar Jason Shadonix Joe Celko Johan Bijnens Jonathan Kehayias Ken Simmons Ladislau Molnar Lanre Famuyide Louis Roy Marios Philippopoulos Martin Cremer Michael Cape Michelle Ufford Mike Walsh Nicholas Cain Oleg Netchaev Paul Els Phil Factor Ranga Narasimhan R. Barry Young Renato Buda Robert Cary Roy Ernest Rudy Panigas Soloman Rutzky Sylvia Moestl Vasilik Thom Bolin Tim Mitchell Thomas LaRock Timothy A Wiseman TJay Belt Vincent Rainardi Wagner Crivelini Wayne Sheffield Zach Mattson
---
Book Details
Paperback: 365 pages
Publisher: Red Gate Books