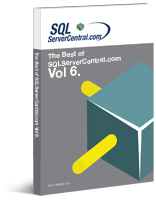 Best of SQLServerCentral Vol 6 by SQLServerCentral.com Authors

(1st Edition, November 2008)
---
" This is a community that includes all of you, and we aren't looking for only the "gurus" to contribute. We love hearing about the real world you all live in and deal with on a daily basis, and Best of SQLServerCentral vol 6 represents some of the best contributions to SQLServerCentral.com in 2008.
" – SQLServerCentral.com authors
Editorial Review
Once again SQLServerCentral.com had another fantastic year and volume 6 of "Best of SQLServerCentral" pulls together some of the best, most popular, and the most read article of 2008, in dead tree format, covering database administration, BI, design, security, T-SQL, and most things in between.
The Authors
| | | | |
| --- | --- | --- | --- |
| Abdul Basit | Ken Simmons | Wayne Sheffield | Ken Kaufman |
| Amriteshwar Singh | Kevin van der Merwe | Alceu Rodrigues de Freitas Jr | Kev Riley |
| Andy Leonard | Louis Roy | Andrew Sears | Kirk Kuykendall |
| Ashish Kumar Mehta | M. Deschene | Andy Warren | Lynn Pettis |
| Basit Ali Farooq | Mark Nash | Austin Zellner | MAK |
| Bill Nicolich | Michael DeYoung | Bert Carles | Martin Cremer |
| Carolyn Richardson | Mohan Kumar | Brandie Tarvin | Mike DiRenzo |
| Daryl Quadros | Narayana Raghavendra | Charles Eaton | Narasimhan Jayachandran |
| David Leibowitz | Owais Bashir Ahmed | David Bird | Nick Maroudas |
| David Poole | Paul Clancy | David Pruden | Patrick LeBlanc |
| Dinesh Asanka | Peter Kierstead | David McKinney | Paul Ibison |
| G. Vijayakumar | Richard Lu | Frédéric Brouard | Prashant Pandey |
| Girish Bhat | Roi Assa | Gennadiy Chornenkyy | Richard Gardner |
| Gregory Jackson | Ryan Cooper | Grant Fritchey | Roy Ernest |
| Ian Stirk | Scott Abrants | Gsquared | Ryan Clare |
| Jacob Sebastian | Simon Facer | JP R | Shashank Bhide |
| James Rea | Teshome Asfaw | James DiMauro | Solomon Rutzky |
| Jamie Thomson | Thomas LaRock | James Greaves | Thomas Pieries |
| Johan Bijnens | Tjay Belt | Jeff Moden | Timothy A Wiseman |
| Jonathan Kehayais | Troy Ketsdever | John Cawley III | Tom Fischer |
| | | | Vincent Rainardi |
| | | | Ying Zhang |
---
Book Details
Paperback: 280 pages
Publisher: SQL Server Central Books