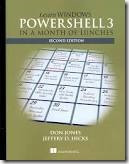 I've been wanting to do more with Powershell (PoSh). I've seen Allen White present on it for years, and I've dabbled in various ways, using it to handle small tasks. However I haven't really committed to learning a bunch of PoSh.
Last month I was with Grant Fritchey on the 2013 SQL in the City tour and in one of his sessions, he uses some Powershell to audit his SQL Server instance. I thought that was pretty cool, and it made me want to dig in further. At the end of his talk, he mentioned a book, and I decided to grab it.
It's Learn Windows Powershell 3 in a Month of Lunches from Don Jones. The name alone made me want to grab it, and it has a catchy title.
My plan is to take time every day or two and read a chapter and work through exercises in the book. I really want to get more comfort in PoSh because I do believe in it and I think it's a fantastic way to get things done. I don't work at scale, but I suspect with a little practice I'll be using PoSh more often for simple things and saving those scripts.
I'll blog along the way and see how things are going. Once I get through, I expect that I'll be digging into more with other articles and books that deal specifically with SQL Server.
Filed under: Blog Tagged: career, powershell, syndicated, windows