Do people still get certified? I don't hear much about it in the SQL community these days so I asked my twitter friends.

Nobody replied 🙂 Maybe thats a sign of peoples interest (or just that I need better friends)
Anyway, I'm still interested and I decided it was time to upgrade my MCSE Data Platform for SQL Server 2012 to 2014. After checking out the Microsoft Learning website (
https://www.microsoft.com/en-us/learning/recertification-virtual-academy.aspx
), it turns out there's a new way to get recertified. Although its still possible to take an exam (70-469), there's now a second option which involves watching a bunch of online videos and taking an assessment after each module. On passing all assessments, sending an email to Microsoft is enough to claim the recertification.
I've had a couple of issues with the exam route for certification over the years. I once booked two exams back to back on a Saturday morning. After turning up at the exam centre, I found it was closed and learned later that it never opened at weekends. Prometric had made some mistake in promoting the exams. I also was never quite sure if I had done enough work to get the 70% pass mark. There were a few times I've spent the £100 to book an exam and came out with 60%, needing to retake it some other time. Hopefully, the new module based exam system removes these kind of problems.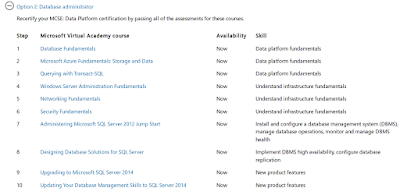 My initial thoughts on seeing the syllabus were...
...looks like some good things (Azure, Upgrading to 2014, Updating 2014 skills), some "Why does a 2012 MSCE need to do these" things (Database Fundamentals???, Administrating 2012!!!) and some "What the hell does this have to do with DBAing!!!" things (Networking Fundamentals!!!!). Was very disappointed to not see a whole section specifically on Powershell.
Each section is split into a number of modules, which will group a couple of related concepts. For each module, an assessment needs to be passed. For example, in the Database Fundamentals topic, these are the following modules...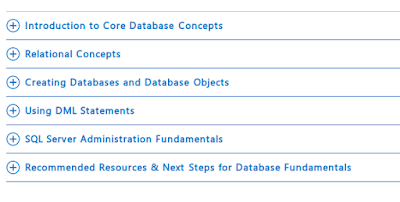 ...and within the Introduction to Core Database Concepts, theres a video covering three concepts and a five question assessment.
This pattern is followed with all the topics.