Last week was the PASS Summit in Seattle (again, but only for 1 more year) and I was up there for a long week of shaking hands and talking SQL. It was a good time, and I'm sorry I didn't do a bit more while I was there, but I'm a bit worn out with traveling this year. It's been hectic, and if I didn't meet you, my apologies. I needed a bit of downtime during the week.
The week started with me arriving on Monday, early afternoon and going on my annual Best Buy shopping trip for the SQLServerCentral party. I joked about the trip on Twitter:

I have a good time grabbing prizes, trying to balance some quantity with quality, and ensure that lots of people have the chance to win something during the night. We have a casino night and give things away randomly for the most part. In case you're wondering, here's the picture from that tweet: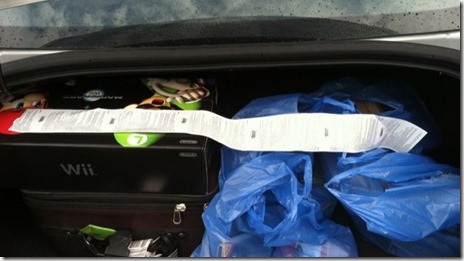 I dragged everything back to the hotel and then got ready for our Monday night networking event. Last year Andy Warren (LinkedIn | Blog | @sqlandy) and I rented out Lowell's in the Pikes Place market for a one night event and it was busy, with over 100 people coming down on Sunday night.
This time we did it again, and it exploded. I arrived around 6:10 and there was a line out the door as the restaurant took orders as you walked in. It was supposed to be a pay-your-own-way, but there was confusion at first. Andy and I greeted people, and the staff put everything on one tab. We straightened it out, and my apologies for any confusion. Some people got a free meal, some didn't, and that's OK. Andy and I planned on a little cost, so we covered the early birds.
It turned out over 180 people came down, and we had a line for a few hours as people waited to get in, but it worked out. People had the chance to talk to each other and network, which was the idea. After 8 I had a chance to chat with Andy Leonard (blog | @AndyLeonard) and Jason Horner (website | @jasonhorner) , and a few others.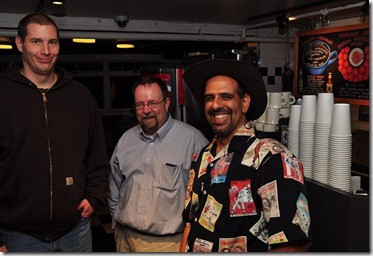 A long night, made longer when I stopped by an MVP event for an hour or so to say hi to a few of my friends that were attending, including the very funny Rob Farley who I haven't seen for a few years.
Tuesday was pre-con day for me. I heard from a few people in other pre-conference sessions that they were great, and the one I attended was outstanding as well. Adam Machanic (Blog|Twitter) gave an all day session on No More Guessing! An Enlightened Approach to Performance Troubleshooting that talked about how he benchmarks, baselines, and troubleshoots performance. I need to write up detailed notes, but it was a great walkthrough with lots of demos and details on how you can find out what's wrong with your system. Fixing it is up to you, but this talk shows how to find what's wrong, and it's worth paying for if he comes to an event near you.
One amazing thing was his use of spatial data to build graphs of performance data, compared with baselines, in SSMS. Very cool, and quicker to do if you know how than putting the data into Excel. Easier to update as well
The one funny event was right before lunch. I left about 15 minutes early to return my rental car to the airport and as soon as I walked out of the room, Adam made a SQLServerCentral plug that I heard about on Twitter. My timing isn't that great

Tuesday night was the SQLServerCentral / Exceptional DBA party. I missed the opening quiz bowl party as I was getting ready for my party. You can see I had a lot to pack up: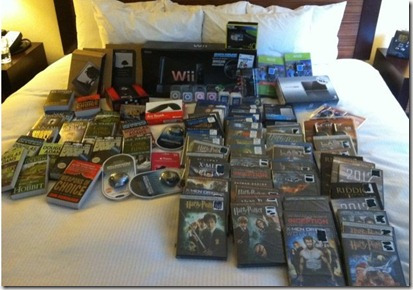 The total prize count was 98 and it exceeded my pre-party-ticket-sales-party by quite a bit. The Best Buy total was $2500, in case you were wondering, which was a couple hundred $$ above the ticket sales. However we had quite a few people pay at the door and ended up on a slightly positive. I don't need to ask my boss to approve any expenses, and I bought some coffees and drinks the rest of the week for people to even things out.
A long night, and I was tired at the end. Some good conversations with people throughout the night and a lot of fun. Hopefully we'll do it again next year.
Wednesday
Wednesday started with some excitement about #sqlrun. Jes Borland had organized it and I was expecting 10-15 people to come. I walked up to the Sheraton a little early and saw one person getting their GPS synced. Nice, I thought.
I walked in to find about 25 people, which soon swelled to 40-45 people for a run along the water. It was fun, not too fast, and I had the chance to talk with Greg Gonzalez of SQL Sentry, Allen Kinsel, Tim Radney, and a few others while we jogged for a couple miles.
A ton of fun, and many thanks to Jes for getting it organized.
Already tired, but excited about the big Red Gate announcement. After the keynote, I went to the expo hall where Red Gate had decorated their booth with a space theme. If you haven't heard, Red Gate is sending a DBA into space!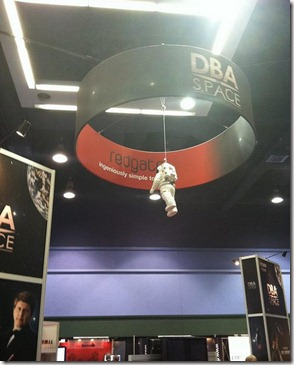 It's a cool contest, accompanied by some B-movie clips to have fun with. I'm even in one. Enter today and get the chance to fly into space on a rocket, which is amazing.
At lunch time I left and headed out to do my Grey's Anatomy impression by riding the ferry over to Bainbridge island for a little break. It's been a long year, and two hectic days wore me out. I needed the chance to sit and write a bit, so I headed over on the ferry.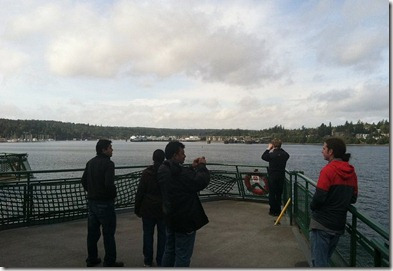 My wife asked me if I was McDreamy or McSteamy on the ride, and I think I was McDreamy. At least as best I could with headphones, a laptop, and a geeky backpack on. A nice break for me and a beautiful little town. My kind of place after the crowds and bustle of Seattle.
I returned in time to run over my Thur session in the hotel and then hit a few parties. It seems that every year there are more parties and this was no exception. I hit two on Wed night, skipping two others for which I had invites.
Thursday
Marginally better keynote, but not much better. I'm not sure why Microsoft insists on marketing to us in the keynotes. We're already excited about SQL Server. Give us a technical fellow that can talk about what happens behind the scenes and we'll be much more excited.
I had the first session, giving my Branding Yourself for a New Job talk on the Modern Resume. Well attended with 50-60 people, some good questions, and one that I really enjoy giving. I'd switched to doing a few technical talks this year instead of this one, but I like this one. I'll do this one a few times next year in different places.
I walked around to a few other sessions, including a lightening talk with the Scary DBA. A short clip below:
Lots of people walking around, and more people outside of sessions than in years past. The talks are good, but the DVD is relatively cheap, especially compared with the chance to sit and talk with other SQL Server people. Networking is important, and not just for your career. You can make contacts and get ideas to help with your current job.
I took a couple hours to go over my Friday talk. I didn't change anything, other than correct a typo I found. I'm not fond of changing talks the week I'm giving them, preferring to just practice. Then it was back out to parties. 3 parties this night, including a Friend of Red Gate dinner at Farestart. Afterwards our waiter, who is a volunteer and works for Boeing, talked about the program. It's amazing, and if you are in Seattle, I recommend going there for dinner. The food is great and it's a wonderful program.
Friday
Evidently I had too much fun and stayed out too long, despite walking back to the hotel just after 11. I was exhausted and struggled to get up and run, but I had a busy day planned.
First was another amazing keynote from Dr David DeWitt. Worth watching, and in fact I was watching it again today. The other keynotes had nothing of note in them worth watching, but this one does. Take an hour when you can and you'll enjoy it.
Then it was most of Adam Machanic's amazing 500 level memory session. He packed a 500-700 room audience and it was great. I stepped out early to check on my laptop and get my presentation ready. My VMs have flaked before, so I took 20 minutes to double check they were really ready to go for the talk.
After lunch I was worried. I had the same room as Adam, and was right before Kimberly Tripp. With 15 minutes to go, the 500 seats had about 15 people in there, but they filed in and when I started there were about 200 people in there. For a 100 level basic session, I was amazed. Mostly first timers as well, which was cool. Lots of good questions, and glad I had 75 minutes.
I answered a couple questions (I'm very thoughtful here
), but I had to run to the airport for a 5:00 flight.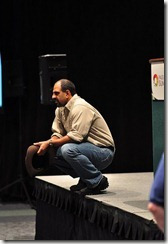 An easy trip on the light rail to the airport (highly recommended) and then an easy flight back to Denver, though I didn't get home until 11. A long day, and a long week, but lots of fun.
Overall the conference felt like three days of SQL Saturday's, which is a testament to how those events have grown. The networking is wonderful at the larger conference if you can go, but if not, get to a SQL Saturday, or Tech Fest or some other event. It's truly recharging and exciting to go see so many people in your profession excited about their careers.
Filed under: Blog Tagged: PASS, speaking, syndicated, travel