As a blogger, you have several options available to you when it comes to writing posts. You can write them online, directly inside whatever platform you're using, be it WordPress, Blogger, TypePad, etc. If you prefer to write posts offline, you can use a text editor like Word or WordPad for the writing process, and then manually upload the posts to your blog. Another option, however, is to use a desktop blogging editor to write, format, and sometimes even preview a blog post offline, and then publish it with the click of a button.
Today I'm going to review one such piece of software: BlogDesk. BlogDesk was designed by Johannes Oppermann as a way to make it easier for bloggers of all levels to produce great content without having to worry about all of the technical stuff. The installation process is simple, there's the usual license agreement, install target, create shortcut?, etc. In order to fully review the posting process, I created a new blog called K9 Musings.
Adding your blog
When you first start up BlogDesk, you'll see a screen that looks like this.
The first thing you'll need to do is add your blog. Under the File menu, select Manage Blogs, and click New. Enter a meaningful name to reference your blog inside BlogDesk. This could be your blog name, or something like "Personal Blog", whatever makes sense to you. In the next screen, enter your blog address. Next you need to specify your blogging platform. Note there's no Blogger option. In the BlogDesk forum, the last update on Blogger was in 2006, when it was not supported. There is an option for "unknown", so if you're using Blogger you might try that. In the next screen, you'll enter the blog entry point. Unless you know better, just use the default value. Move on and enter your blog credentials.
In the next screen, Click Get Blog-ID to populate the id, if you don't know it. Even if you do happen to know your blog ID, I'd click this button anyway: it's a good way to see if everything you've entered is correct so far. Click Get Categories to download all the categories you've set up in your blog. I'm using a brand new blog, so all I get is "uncategorized". Test the Direct Upload method for uploading images. Click Finish and you're done.
Writing a post
As a word processing platform, BlogDesk is very basic. In fact, it's not much more robust than WordPad. You have text formatting options like bold, italic, underline, and strikethrough. You can insert bullets and numbered lists, indent paragraphs, and change the font and background color. There's also a spellchecker.
There are no styles to choose from, so to add a heading, place your cursor at the start of the heading text and choose Edit-> Insert HTML (or CTRL-H). Type in <H3> (or whatever heading format you want to use), and click OK. BlogDesk will automatically insert a close tag at the end of the paragraph.
Adding images
One of the perks of using BlogDesk is that it comes with a built-in image editor. You can choose an existing file, link to an online image, or paste something from the clipboard. My image was too big at first, so I changed the size to medium and selected the "instant image" option under Shadows and Borders to look like a polaroid snapshot. All in all, it's a very basic graphics editor with a few neat features, but it's nice to not have to edit in a separate program all the time.
Inserting Code
If you're using WordPress, like I am, you might be using the sourcecode tag for posting code snippets. In order to get this to work properly in BlogDesk, switch to source viewing mode and enter your code. Then switch back to normal mode. I've have it happen occasionally where quoted strings inside code won't appear right after upload. They'll have the " code instead. I haven't been able to reproduce this reliably, though, so it may well have been user error. I just thought I'd mention it here in case someone else ran into the same issue. The problem was always fixed with a quick edit online.
Tags
To add tags to your post, use the Tags-Generator under Extras. When you first start, there won't be any tags except BlogDesk. Click the List button and start adding new tags. Click OK, select the ones you want to tag your post with, and either choose WordPress tags or Insert into text.
Categories
Unfortunately, you can download existing categories, but you can't create new ones inside BlogDesk.
Uploading and Publishing
Publishing is simple in BlogDesk. If your post is ready and you want it to appear online immediately, check the Publish After Upload checkbox and click the Publish button. To save a draft online, uncheck the Publish After Upload checkbox and use the same Publish button. Personally, I think they should have called this the Upload button, for clarity. If you want to schedule posts for future publication, check the Change Date and Time checkbox and enter the desired date and time you want your post to go online. Then, again, click Publish.
If you notice something you want to change after publishing a post, BlogDesk allows you to download and edit the post using Edit Posts already Published, under the File menu. Choose the blog you're managing and the post you want to edit. Make your changes and publish again.
Notebook
One of the options you'll find under the Extras menu is the Notebook. This little feature is good for keeping notes and sorting ideas. You can even create categories to keep your notes organized. Whatever text you add in the Notebook is automatically saved.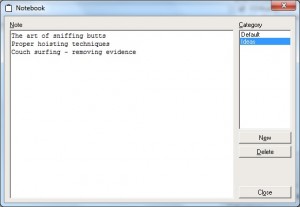 Verdict
Pros – BlogDesk is lightweight, easy to use, and offers basic editing. The built-in image editor is handy. And it's free.
Cons – Limited text formatting unless you know HTML codes. You can't create new categories offline. Preview doesn't include your theme, so it's not a true preview.
Bottom Line – BlogDesk does what it sets out to do: provide a basic offline editor for producing content without having to worry about all the technical stuff. It's great for a new blogger, but if you like a lot of extra bells and whistles in your blog, you're probably going to end up doing quite a bit of editing online.