Hopefully by now most of the issues with the new site are resolved or being worked on. Our plan is for a few point releases over the next two weeks that should clear up most of the problems that prevent you from working. After that we'll continue to improve things, but at a slower pace.
The SQLServerCentral.com Daily Update, our newsletter, has been going out for 6 and half years, growing steadily and really fueling the growth of the site. We hope that you've really enjoyed it and gotten some benefits most days, even if it's just a laugh at my rambling on about something in the world of technology.
The newsletter has grown both in subscribers and size quite a bit and while we like the former, the latter gets expensive, slows down sends, trips spam filters, etc. So we'd like to propose a few changes. We value your input and also recognize this is really a community newsletter, not my personal communication vehicle or Red Gate's either. We own it, but we don't really own it. You do.
So...
What I'd like to do is propose that we drastically trim the "Users that need help" section. We currently send out all threads that have had a post in the last 24 hours. However with the traffic we have, that results in 12-15 pages of stuff that we think most of you ignore. Some of you find it valuable, so we do have a few alternatives.
The first is that we have RSS feeds that cover any of the forums. We don't have large general one, but we could set one up if you want it. We could get to personal feeds at some point, but I have to give the developers a short break before we tackle that one.
The second thing is that you can "subscribe" to a forum by clicking the "Forum Options" in the upper right corner of each forum.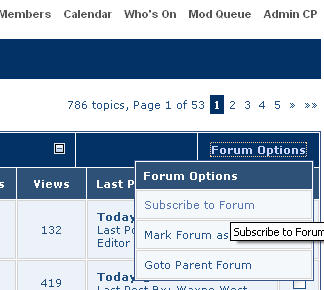 That shows you a few choices and while I'm not sure you want to receive an email for every post, you have that option.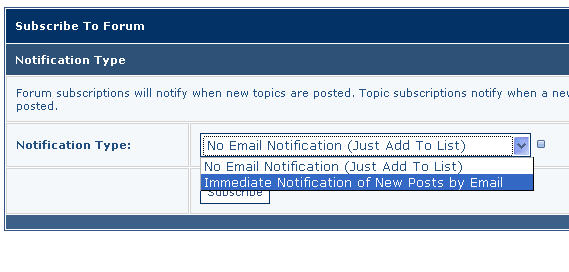 Lastly, if you prefer to check things out on the site, you can use the "Recent Posts" menu item and select the "Posts Since My Last Visit.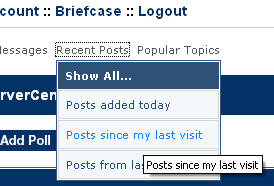 That particular option works like the old "Active Threads" link and shows you any threads that have had a post since the last time that you logged into the site. Personally this is how I find out what's happening on the site and what might need to be checked.
As I've mentioned, these are all proposed ideas. We don't really think that most of you read the entire list of threads, but if you do, let us know. We might set up a separate newsletter for you folks.
I'll also mention that we're looking at changing the ad layout as well. Let us know what you think about shrinking the ads and including a couple more at the top. I know, I know, you hate advertising, but it's a part of our world and it can offset costs as well as let you know about interesting products that might be valuable to you.