Introduction
Recently I got Microsoft Office Professional Edition 2003 Installed. I found a new tool which was not in the previous versions of MS Office. Curiosity makes me want to get more information on this. Still I am learning and I would like to share my little knowledge with you all from which you and I can learn more about Info Path.
This article will cover what is Info Path 2003, what are it's feature and functionalities, when it can be used and what are the limitations of its.. There are more articles to come regarding this in times to come by. This series of articles will discuss the link between InfoPath and SQL Server which is the prime interest of all of us. ( I hope So!)
What is InfoPath 2003
InfoPath 2003 is a new member of the MSOffice 2003 family. InfoPath can be execute as a single tool which means it does not require MSOffice 2003. It can even be installed in the other MSOffice environments as well.
InfoPath provides support for XML, XML Web services and custom XML schemas. It uses dynamic rich authoring and built-in- validation in WYSIWYG ("what you see is what you get") environment.
Features and Functionalities of InfoPath 2003
1. Easy creation of Forms / Data Screens
InfoPath allows end user to create forms from the WYSIWYG environment. There are 25 ready-to-use sample forms which can be easily used by the end-users.
2. Efficient and Effective Data Entry and Data Collecting
InfoPath and XML have close links between each other, which we will discuss in later articles. Because of this, organizational business systems and process can be accessed from your simple desktop, which allows your people to get the business information more quickly and precisely, enabling them to make better decisions and actions on behalf of the organization.
InfoPath supports XML, which helps you to collect a lot of information. It can also prevent duplicate data from being inserted into the system, which keeps your system healthy.
InfoPath also simplifies the collecting of data, which is of tremendous help to the end-users. Features such as Repeating Sections Optional field will allow the user to collect the data more effectively. One more advantage, which InfoPath has, is ability to connect to other office applications such as Word, Excel, Outlook etc.
3. Ability to connect data at any time online or offline
An end user can work with InfoPath while on the network, or he can collect the data and work offline and manage information. Nevertheless, what is important is that you can synchronize your data after working offline and reconnect.
4. Less User Training
User will be able to use InfoPath the same as Microsoft Office or Excel because of the Office environment. User will find the same features such as text formatting, bulleted lists, tables and more useful spell-checker.
5. Deployment
Deployment would be very easy as the product has server-based deployment so that InfoPath forms are available to everyone in the organization. InfoPath also comes with a built-in version control that detects when the forms are updated and ensures the user will get the most recent forms, which is a great facility.
Implementation
I will discuss this in more detail in future articles, but look on this for the time being. First of all a user will be able to create very nice user interfaces with InfoPath using SQLServer as the back-end in less time. A user will even be able to do validation on the data before inserting it into the databases.
Drawbacks
Wait for a second before jumping into the InfoPath world. There are a few issues, the most terrible one is the inability to copy one form to another. Although user can copy and paste the information from existing forms into an InfoPath 2003 form, the user needs to insert the controls again. I feel this is a major drawback. Just imagine how we have gotten used to Copy and Paste. As a developer or end-user this has become part of our life. But imagine when you have to live without it.
Another drawback is unavailability of reports like in Access. This is because main aim of InfoPath is to collect data and store them.
But I think Microsoft will develop these solutions in future release to keep and grow the users of of InfoPath.
Sample Screen
Following is a sample screen which is comes with InfoPath.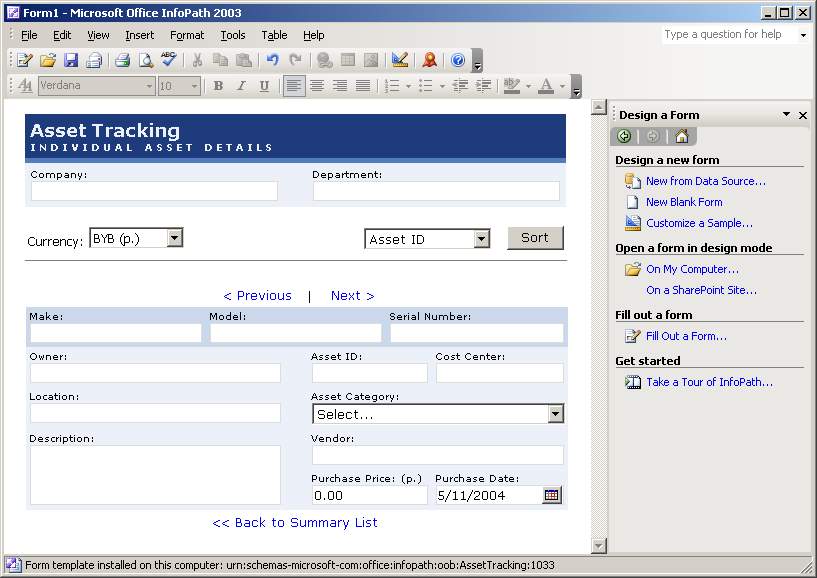 Above screen is just to give you an idea what can be done from InfoPath. We will discuss how these can be achieved in coming articles.
Conclusion
InfoPath, the new member of the Office family has many advantages over its counter part, Access. Even though it is not popular as such, slowly it is catching up.
The prime aim of this article is just to give an overall look into the InfoPath. I am also still in the process of learning. So I am anxiously wait for your feed back before writing the next articles.
For more information please visit
Introducing Microsoft Office InfoPath 2003