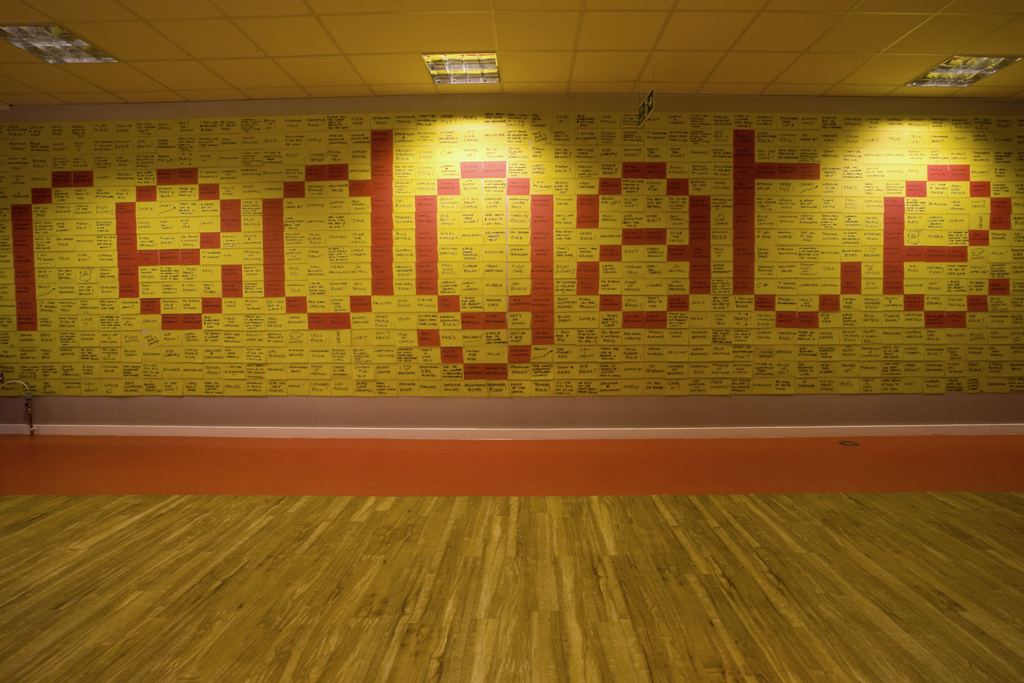 It's been a long time since I worked in an office with other people, and I rarely even visit offices. Most of my friends work in cubicles that are set up in some type of row and column structure in large open spaces. In fact, I've never really worked in a great office space, like the Bionic Office that I wrote about a few weeks back.
When I heard Red Gate was moving, I was curious to see the new spaces. Lots of emails have come through the company-wide email system talking about the changes and new features. Apparently a lot of thought went into the design, so I wondered how it might turn out.
If you watch the podcast, I've got some footage walking around the office, and I'll narrate some of my journeys there, so the podcast will diverge quite a bit from the editorial today. Worth reading/watching both!
The Red Gate offices are two floors in relatively new building. There are large, open spaces with low desks that curve around, leaving lots of space for people. In fact too many people as there are lots of empty spaces. That's good for growth since moving offices is a pain, as is squeezing people in, but it does make the energy level lower in some places. Personally I'd suggest consolidating people more so that they interact a bit more and then opening up some more areas for shuffleboard, handball, or some other wide open area distraction.
There aren't any offices, not even for the two CEOs, but lots of conference rooms that are available for meetings. Each day someone posts the day's schedule on each room so that anyone walking by can grab a room if it's not scheduled. Most of the larger rooms have a shuttle computer in there with an overhead projector, drop down screen, and a wireless keyboard and mouse. That's handy for people to log on and show something on the screen without the need to carry around a laptop.
It's a fairly open environment, just desks around with no cube walls. Double monitors exist for most people, and lots of amenities that let people take a break from the routine of work. Ping pong, foosball, chess, checkers, and other games exist in the large kitchen. Actually it's a canteen and there's one on each floor. Plenty of food and drinks, and a great coffee machine that I saw many people taking advantage of. I'm sure there was tea around, but I didn't partake of any. It was interesting to see that there's lots of juices, milk, and cereal around and no sodas. Unheard of in the US, but not a big deal in the UK apparently.
There's a library space with couches, DVDs for check out on the honor system, books and periodicals. Too often I think the value of someone going to an open space for research, learning or relaxing is ignored in companies, even software companies.
There's even some thought to making it an interesting space. A number of walls have murals, which you can see in the podcast. The "little people" wall was nice, but my favorite was the wall of post-its. A great creative idea that made me smile.
Steve Jones
---
The Voice of the DBA Podcasts
The podcast feeds are now available at sqlservercentral.mevio.com to get better bandwidth and maybe a little more exposure :). Comments are definitely appreciated and wanted, and you can get feeds from there.
or now on iTunes!
Today's podcast features music by Everyday Jones. No relation, but I stumbled on to them and really like the music. Support this great duo at www.everydayjones.com.
I really appreciate and value feedback on the podcasts. Let us know what you like, don't like, or even send in ideas for the show. If you'd like to comment, post something here. The boss will be sure to read it.