If you were in the Exhibition Hall yesterday at the PASS Summit, you were witness to an amazing announcement about a new contest. Red Gate Software is sending a DBA into space, giving you the chance to actually take a trip into space. Someone will get to experience weightlessness and see the planet as only astronauts have before. It's a view that they always say has changed their lives. How absolutely, freaking, amazing is that?
As a kid I loved science fiction, dreaming of the chance to have a flying car, or serve on some spaceship like the Enterprise or the Millennium Falcon. As I grew up, it seemed that most people were enamored with the idea of technology advancing to the point where we would fly in space, or more easily travel around the world. It still seems that we're missing the Jetson's cars that I expected would be around by 2011. Not only haven't we duplicated the feats of 2001: A Space Odyssey by sending a ship to Jupiter, we haven't even sent a manned mission to Mars. Forty years after landing a man on the moon, it seems that space travel has barely advanced.
However it has advanced, at least to the point where an ordinary human, albeit one with a deep wallet, can book a trip on a ship to travel into space. Red Gate has eliminated the wallet restriction, and all of you have a chance over the next five weeks to enter this contest and have a chance to experience weightlessness.
I hope you have fun with it and enjoy the quiz that goes along with the DBA in Space short webisodes that we've put together. The questions aren't too hard, but they might require a little research on your part. Take your time, however, as you only get one shot to answer them.
The shows are a little corny, but it was done to bring a smile to your face, and I'm looking forward to hearing what you think.
Steve Jones
---
The Voice of the DBA Podcasts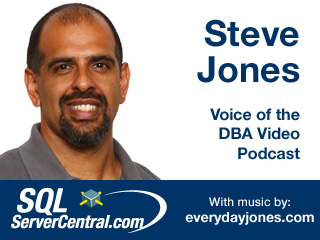 The podcast feeds are available at sqlservercentral.mevio.com. Comments are definitely appreciated and wanted, and you can get feeds from there. Overall RSS Feed:
or now on iTunes!
Today's podcast features music by Everyday Jones. No relation, but I stumbled on to them and really like the music. Support this great duo at www.everydayjones.com.
You can also follow Steve Jones on Twitter: