I can't believe I'm driving to the airport again today for a trip out of the country. Given the troubles that I've typically had crossing the Atlantic, it seems crazy to me that I'm going to go for the second time this year. In my life, I've flown to Europe 9 times and each trip has always been a one-stop each way, yet I've never had less than 5 planes and had as many as seven. A few years ago I thought that would end as I flew to the UK and made it back to Chicago with three planes. I then proceeded to get on, and off, three more planes before the fourth managed to get me to Denver.
This time I'm trying a new route, actually flying through Calgary. My one Canadian trip was smooth, so maybe I'll have an easy trip over the SQL Bits 9: Query Across the Mersey. Simon Sabin and the rest of the organizers have invited me to come quite a few times and I finally committed this year. I've been wanting to attend the event, which many friends have greatly enjoyed. I'm looking forward to getting to the home of the Beatles, Liverpool and seeing Chris Testa-O'Neill's band along with the Fab Beatles, entertaining everyone on Thursday night. Assuming I can get there in time.
SQL Bits has a great format that I'd love to see duplicated in the US. They have a day of pre-cons called "Training Day", which is packed this year withAndy Leonard (blog | @AndyLeonard) and Allen White (blog | @SQLRunr) from the US along with Maciej Pilecki, Mark S. Rasmussen, and more. It's a great way to get a pre-con at a great price. That occurs on Thursday, with a paid training day on Friday where I and many other speakers will be presenting on various topics. Saturday is like the US SQL Saturday model, with a free day of training for anyone that can register and come.
I love the SQL Saturdays, but I think this model would work in the US as well. I'm looking forward to seeing the event and then with Karla Landrum's (@karlakay22) help, hopefully seeing an event like this in the US.
Steve Jones
---
The Voice of the DBA Podcasts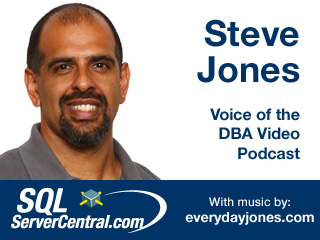 The podcast feeds are available at sqlservercentral.mevio.com. Comments are definitely appreciated and wanted, and you can get feeds from there. Overall RSS Feed:
or now on iTunes!
Today's podcast features music by Everyday Jones. No relation, but I stumbled on to them and really like the music. Support this great duo at www.everydayjones.com.
You can also follow Steve Jones on Twitter: