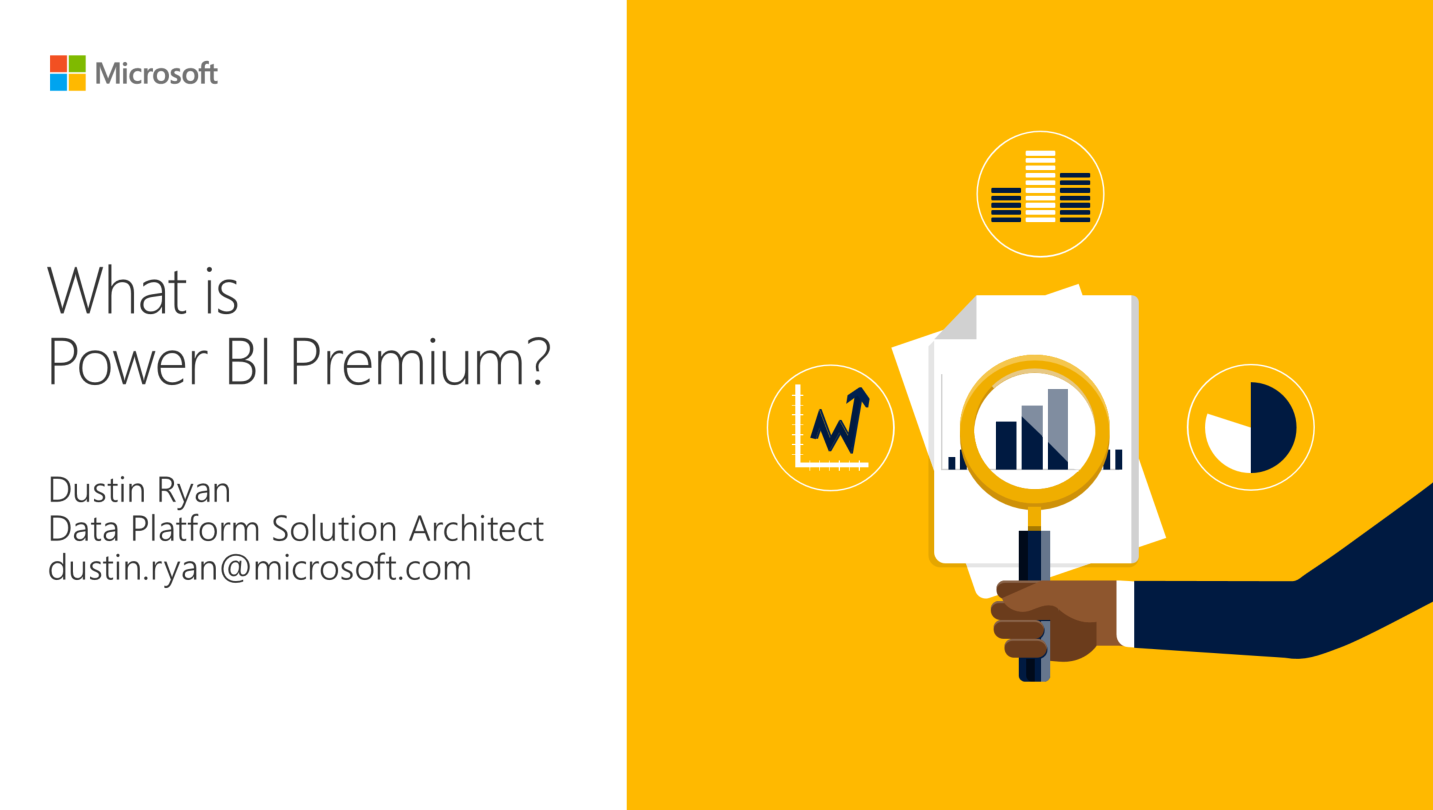 Yesterday I had the pleasure of delivering a webinar presentation in partnership with Pragmatic Works called "What is Power BI Premium?".
Since Power BI Premium was announced on May 3 there's been a lot of questions around what exactly Power BI Premium is for and what it can do. Thus I thought it'd be beneficial to discuss Power BI Premium during yesterday's webinar. If you happened to miss the webinar, have no fear.
And if you don't have time to watch the recording, just download the slide deck and materials here.
Question & Answer Time
There were a lot of questions during the webinar and far too many for me to answer so I've picked out a few really good ones to answer here on this post.
Q) Will the Power BI Report Server preview work with SQL Server 2016 Developer Edition?
A) Yes, the Power BI Report Server preview will work with SQL 2016 Developer Edition. It can be set up in a developer environment. The Developer Edition includes the full features of SQL Server.
Q) How often will Power BI Desktop (Report Server) be updated?
A) The SSRS team talked about this in their latest blog post in the section under "Modern, rapid release cycle". The team has stated that "We plan to release not every couple of years or even every year, but multiple times per year." How many times per year exactly is unknown, but it will be at least more than once per year.
Q) If we have SQL Server Enterprise Edition, can we still install Power BI Report Server?
A) I mentioned this in a blog post I published earlier today, but there's basically two ways you get the rights to install Power BI Report Server: 1) Purchase Power BI Premium and 2) Purchase SQL Server Enterprise Edition with Software Assurance.
Q) When will Power BI Report Server be generally available?
A) The product teams have publicly stated that Power BI Report Server will be generally available late in the second quarter of 2017, so in other words its next month.

Q) With Power BI Premium, do the developers still need a Pro license?
A) The answer to this question is yes. The developers will still need a Pro license as only users with Pro licenses can share content. The users view content deployed to Premium capacity will not need a Pro license, but developers creating the content and sharing the content with the consumers would still need a Pro license.
Thoughts and Feedback?
Thanks to those that attended and thanks to Pragmatic Works for hosting! Let me know if you have any questions that I couldn't get to during the webinar. Post your questions below and I'll do my best to point you in the right direction!