PowerPivot is a powerful new tool from Microsoft that has been improved even more in the 2012 release, which you can download for free here. In this blog I will give you a PowerPivot workbook that I created to connect to the Reporting Services logs and pull data. This gives you the ability to see the performance of your report server very easily.
Report Example: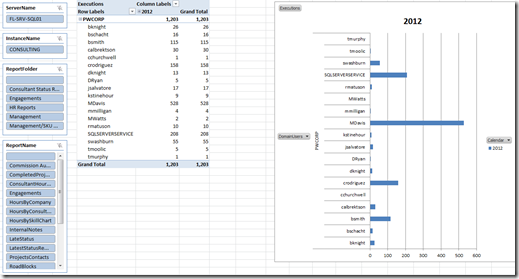 Keep in mind that all the data in PowerPivot is pulled into memory so if you have a large reporting environment you may have to limit the data with a where clause on the query in the work book. The instructions are in the workbook.
Download the workbook here and let me know what you think.
This was created with PowerPivot 2012 and connected to SSRS2008 R2 log.