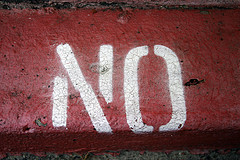 I no more than finished my rant from last week than I started thinking about all the reasons why a healthy chunk of the reasons that developers want to bypass relational database is not the horror of the relational database itself, although, that's there. No, a very large reason why is the DBA.
We're on a blog called The Scary DBA. I earned that title, well sometimes. Sometimes I got it and I wasn't sure why. However, it's perfectly in keeping with how many people view their database administrators; grumpy, obstructionist, slow, difficult, control freak, etc.. There are even jokes about it, "What's the DBAs favorite word? No!" And for those answering "It depends" that's two words.
I understand why. In large part it's that phone in your pocket (used to be a pager on your belt, I'm old). That darned thing can go off any time night or day. It tends to make you very gun-shy. You start doing anything you can to keep that thing from going off. And developers, holy moly, they want to change things. They want to introduce new tables and new queries and they want to do it all really fast, faster than you can possibly review all that code, and all, ALL, AAAAALLLLLL, that code needs to be reviewed before we can let it unsettle our production servers. No.
And developers get crazy ideas in their heads sometimes. Maybe it would be easier to put the queries in the code rather than in stored procedures? What? How the heck can I review all the code too? No.
Developers also start thinking to themselves, you know, most of this T-SQL code could be generated using other code. Wait, that means even more T-SQL generated even faster, and generated by a program, and I can't review that program, or it's code and you want to put it into my production server? Are you smoking something over there? No.
CLR? Ha! No.
ORM tools? Have you seen that T-SQL? Hell no!
How about other tool sets? Maybe an object database would work here. We may be better off using unstructured storage for data collection in this situation. ID/Value pairs might work well for this application. No, no, no and no again. Just in case you think of something else, no.
Gee, I'm sure if I were a developer I'd be perfectly happy with this approach. I've no doubt as developers introduce even harder subjects like agile development, devops, and other things in the future the responses will be just as nuanced. In short, I'd be doing anything I could to bypass the DBAs too.
So, what do we do about it as DBAs? Change. Use the word "Yes."
We need to recognize that the business is changing, fast. That means that the applications are going to change, faster. We, DBAs, must become enablers. We must create processes and methods that smooth and speed the deployment process in order to provide lots of opportunities for automated testing because you're not going to review this code and you can't just stand in the way. We need to adopt to and adapt the development and deployment paradigms used by the developers. We have to start treating databases, as much as possible, like code. We need to have our code in source control along side the application code. We need to be at the stand ups. In short, we need to change what we do and the way we do it. We can't just say no. We need to say yes. The goal is to get in with the developers and influence through assistance, not just stand in the way.
Is it more work? Yes. Is it going to be hard? Yes. Will we have to go quite a long ways to convince them that we're not just going to say "No" again? Yes. Are there damned good reasons for us to make these efforts so that someone who loves and protects the data and will be able to provide special skills not developed by most programmers? Yes again.
See, it's easy. Try it.
The post The Curse of Working With A DBA appeared first on Home Of The Scary DBA.