Sorting a matrix report can be done interactively. To perform interactive sorting, your report you will need a cell to click on to perform the action. In the image below you can see a basic matrix report with State as the row group, with year and quarter as the column groups. You want to be able to interactively sort the report on all of these groups.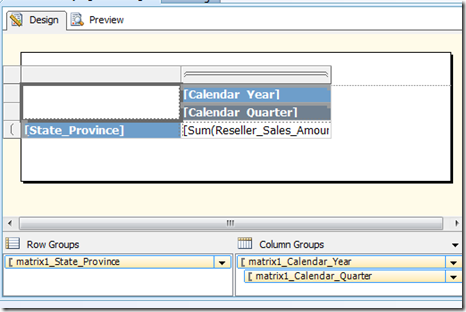 There is an empty cell above the state and this can be the location for the sorting actions. First you need to create two more cells though, because you want to sort on all groups.
To do this right click on the black cell and select Split cells.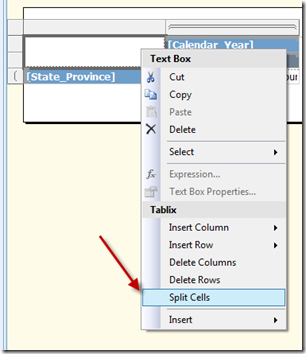 This gives you two cells now. You still need one more. Right click on the row at the top and select Insert Row, outside group above.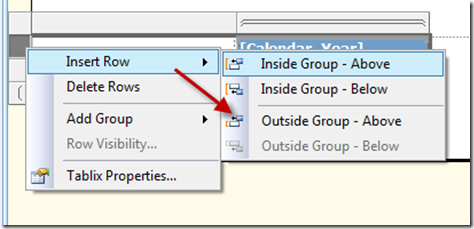 This will give you three cells as seen below.

In the blank text boxes you can now type in a descriptive text like "Sort by Year".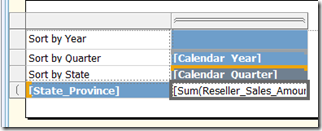 To set up the sorting right click on the sort by year text box and select text box properties. Then select interactive sorting. Place a check next to Enable interactive sorting on this text box. Place the radio button next to Groups and select year in the drop down below then click ok.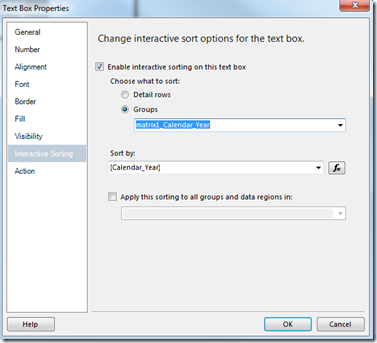 Repeat these same steps for the other cells and your users will be able to sort the report using these cells.