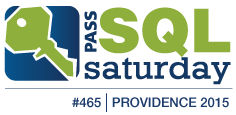 Upcoming this Saturday 12/12/2015, SQL Saturday #465, taking place in the more modest Providence, Rhode Island venue, comes a great event of sponsors, speakers and sessions. In order to craft such an incredible day of SQL Server learning, laughing, and lunching, you need a Crafty DBA to pull it off! Leading the SQLSat465 team is John Miner, aka the Crafty DBA, @JohnMiner3 on twitter, bringing this together for your training and networking pleasure!
SQLSaturday is a free training event for SQL Server professionals and
those wanting to learn about SQL Server. This event will be held on Dec 12 2015 at NEIT, 1408 Division Rd , East Greenwich, Rhode Island, 02818, United States.
Check out the cool lineup of speakers, and their informative sessions, with a good mix of topics and skill levels for everyone. Here is the schedule that is sure to please! Get the best presentations by the experts on the latest technology and trends around SQL Server and the Data Platform.
In addition, they are giving away great prizes, raffles, and SWAG! Pearl Knowledge Solutions, is proud to be a sponsor as well, and is giving away its best-selling book by yours truly - HealthySQL- A Comprehensive DBA Guide to Healthy SQL Server Performance.These books will be signed by me, and the technical editor of my book, the one and only SQLServerCentral.com editor-at-large, Steve Jones, aka @wayoutwest. Also giving away FREE eBook Codes to download a copy of HealthySQL direct from the publisher, Apress.com. You may be even lucky enough to grab a HeathySQL campaign button!
You can follow the event up to date on twitter with the hashtag #SQLSat465. Enjoy!!
---
If you are interested in a DBA strategy and hands-on book, read Healthy SQL – A
Comprehensive Guide to Healthy SQL Server Performance, published by Apress, you can go to the url:
http://bit.ly/orderHealthySQLnow
You can also
get the book on Amazon: http://bit.ly/HealthySQLonAmazon
For all
things SQL, news, events, jobs, info, and other fun tweets, follow me on
twitter @Pearlknows and join the #HealthySQL campaign to
keep your SQL Servers healthy!
Pearl Knowledge now offers IT Staff Augmentation and Project Consulting Placement as a service!

http://bit.ly/PearlknowsOpenJobs