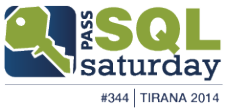 I'm very exciting to announce that we will have next SQL Saturday event in Albania, Tirana, which is going to be held on 4th Oct, 2014.
While around the World there are many SQL Saturday, our one will be very attractive and we just have first submissions from well-known speakers and why not if you want to be part of our community you can apply for a session at least and later on the next month we will create the agenda with full details (who will speak, what will speak etc).
I will be there also where I decide to speak something between SQL and Azure SQL Databases, to be more specific my session will cover lot of info how to work with SQL Databases and publishing them in to the Azure then how to administer them from the Azure portal and much more…
So, from here I encourage you to be part of our SQL Community and you will be very welcome!
See you at SQL Saturday Albania (Tirana) #sqlsat344 #sqlsatAlbania #sqlsatTirana …
Filed under: Events, Learning, MVP, PASS, SQL Alb, SQL Server, SSC Tagged: Albania, ALSSUG, Microsoft, SQL Events, SQL PASS, SQL Saturday, SQL Server, Tirana