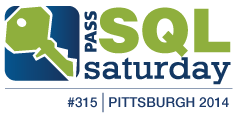 SQLSaturday
is a full day FREE training event for SQL Server
professionals and those wanting to learn more about SQL Server and network with
the SQL Server community.
Pick from more than 30 different sessions and learn from the experts.
Don't
know anything about SQL Server? We have an entire track for "Wannabe DBAs."
Explore the life of a DBA and see if it can be yours too.


Date: October
4th, 2014
Location: Pittsburgh
Technical Institute - 1111 McKee Road, Oakdale, PA 15071.
Time: Check
in starts at 7:30am. Sessions throughout the day
Cost: Admittance
to this event is free, but we do charge a lunch fee of $10.00
Registration: www.sqlsaturday.com/315/register.aspx
Seating
is limited so register today!