The year of SQL Saturdays!
Tampa is the second SQL Saturday that I'll be speaking at this year. For the past several years of my life I have been busy with life. Graduate school completed (check). My beautiful daughter Ava was born (check).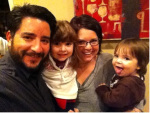 Major move across 3 state lines to live closer to family with kid in tow (check). My rough and tumble son Alex was born (check). Enough with the excuses, now it's time to focus back on my career for a bit and give back to the professional community.
I'm looking forward to networking with SQL Server professionals and learning from the community. It doesn't matter how much you think you understand a topic, I always feel there is something to be gained from others. If you can make it out, the user group can certainly use your support. Hope you are able to attend.