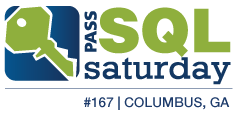 SQL Saturday #167 is just hours away. We have worked hard to get everything setup and in place and hope no details were missed. We have an excellent lineup of speakers, coffee and donuts ordered for the morning, hundreds of bottles of water and soda, large coolers, swag bags packed, signage ready to put up, lunch ordered, swag for raffles, speaker dinner set, after party location set, emails to attendees sent out, speed pass in place and lots of excited attendees.
This will be Columbus GA's first SQL Saturday. Our planning team has worked with other SQL Saturday's with planning and speaking so we know the ropes. We have an excellent location at the Commerce and Technology Center at Columbus State University.
Our pre-con lower attendance but we didn't expect a sell out. William Pearson III is a great guy who has been putting on a great show with lots of attendee interaction.
A major thank you to our sponsors who have made this event possible. Another huge thank you to Jon Boulineau for handling so much of the logistical aspects with the speaker dinner, after party and pre-con tasks.