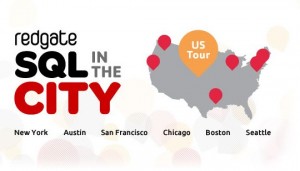 The Red Gate SQL in the City US tour begins tomorrow in New York City. If you have not registered for an event in your area then hurry up as seats are limited.
The events are being held in New York, Austin, San Francisco, Chicago, Boston and Seattle. Come hear about many day to day problems that we encounter as DBA's and how to solve them. Red Gate makes many tools to help us solve our problems quicker. One of my favorite tools is SQL Prompt. I seldom do a presentation without showing off how simple and easy it is to use the tool.
I was lucky enough to be chosen to speak in New York City and Austin TX, two of my favorite cities. I will be presenting on "Proactive Data Growth Management: Reducing Your Storage Footprint". I will be talking about and demonstrating how using compression can reduce your overall storage requirements. Enterprise storage is not cheap, so reducing your storage needs decreases your storage and operational cost.
I hope to see you in New York or Austin.