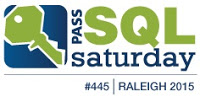 I will be speaking this weekend at SQL Saturday #445 - Raleigh, NC. If you are in the area, please come out to this free training event to hear a bunch of great professionals talk about SQL Server. You can register for the event here: http://www.sqlsaturday.com/445/eventhome.aspx. So come on out and meet some great people who might be able to help you solve your worst problems.
I will be presenting two sessions on Policy Based Management and Performance Monitoring Tools.
Policy Based Management - Beyond the Basics
Policy Based Management is a great feature of SQL Server and easy to implement; however, for most organizations you need a way to customize it to your enterprise. Join me for this session as we take a deeper dive into PBM to see how you can customize polices, evaluate those polices across your entire enterprise environment, track those changes over time, and deliver reports to management showing your progress.
No Money for Performance Monitoring Tools? No Problem!
So you like the idea of using one of the commercially available performance monitoring tools but can't convince your boss to spend the money? Then join me as we explore some absolutely free tools born right out of Microsoft's customer support teams: DiagManager and SQLNexus. We will see just how easy it is to use them to collect and analyze performance data from your SQL Servers. These tools can get you started quickly without having to deal with the red tape.