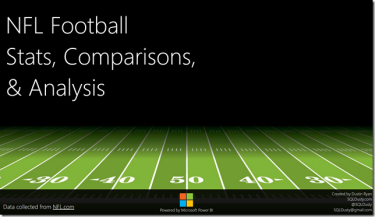 For the past few years I've combined my love of professional football and analytics by releasing a series of Power BI reports featuring player statistics. This year is no different. This year I'm finally able to release my NFL Football Stats, Comparisons, and Analysis reports featuring the stats for players at the quarterback, runningback, wide receiver, tightend, and kicker positions. Unlike previous years, this years reports are based on data from NFL.com. My goal for producing this report is, as nerdy as this is, to give me a leg up on my fantasy football drafts. If you've ever played fantasy football, you know the key to winning is having the deepest roster and I hope that these reports will allow me to identify middle and late round talent using the collected data in a readable and navigable format.
I think this is probably my best version of the NFL stats report that I've released yet, and there's a few reasons why I think so. First, I included comparisons between each individual player and league averages, which I hope will provide valuable insight into where each player stacks up compared to the rest of the league.
Secondly, I included colored KPIs on the Team Dashboard to indicate how a player compares to the league. For instance, if a running back has a green KPI for Yards Rushing, that means they rushed for 10% more yards compared to the rest of the league. Yellow would indicate the player rushed for between 90% and 110% of the league average, and red would mean they only rushed for less than 90% of the league average.
Also, I included filters on the analysis reports for
position groups allowing you to filter for player that obtained a certain number of yards, receptions, touchdowns, etc. So if you were interested in only looking at wide receivers that had at least 1000 yards receiving and caught at least 10 touchdowns, you could use the slider bars to accomplish that type of analysis.
The Team Dashboard
After the title page, the first page is the Team Dashboard and features an overall team analysis. You can use the filter box in the top right to filter down to one team at a time. Use the year filter to look at the stats for each team for the previous 3 seasons. The quarterback, runningback, and receiver position groups are displayed with KPIs below.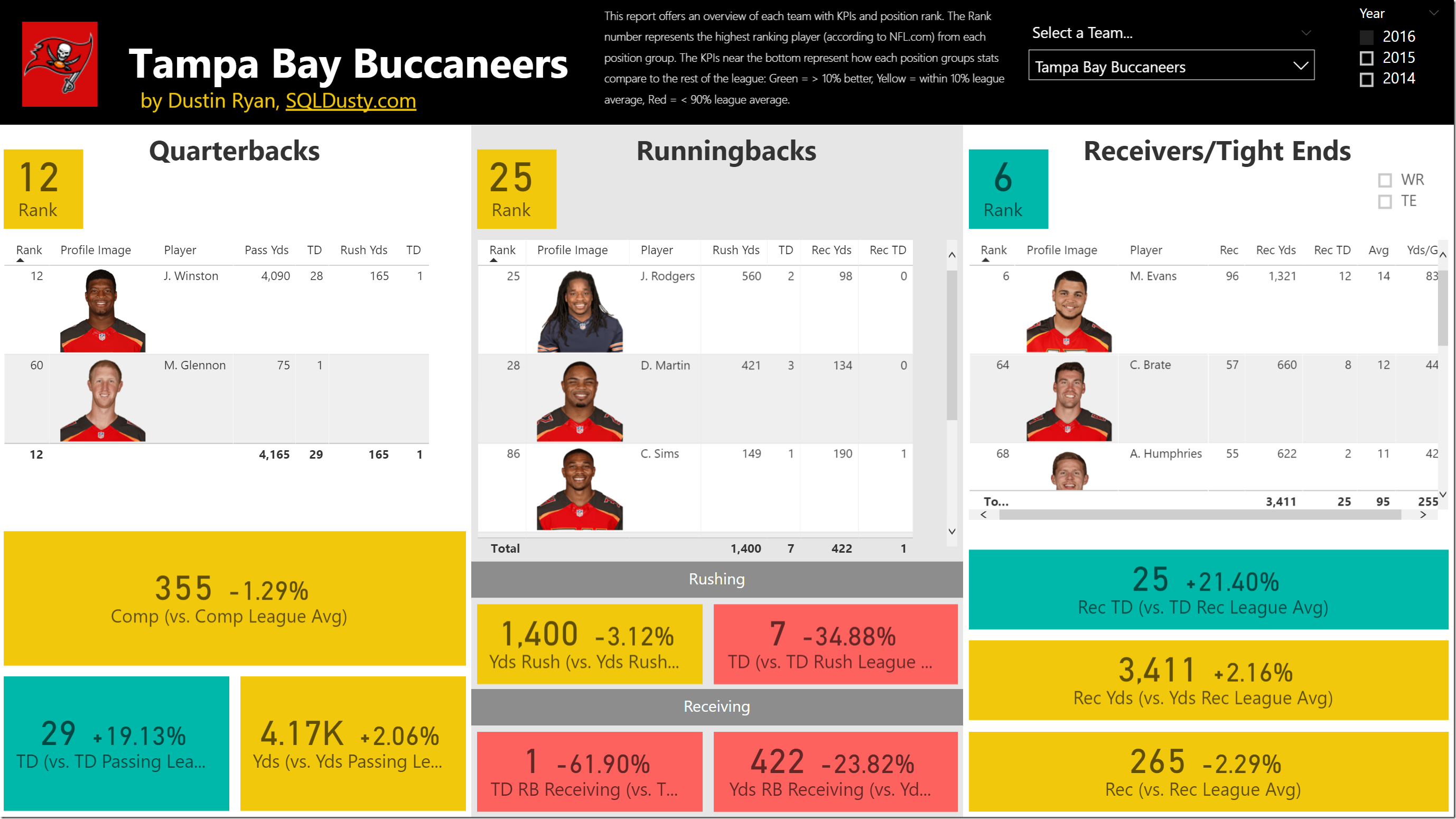 Quarterback Analysis and Comparisons
The next two pages feature the QB Analysis and QB Comparison reports. Use the Quarterbacks Analysis page to identify top performing quarterback but also identify which quarterback might be considered above average but not top tier.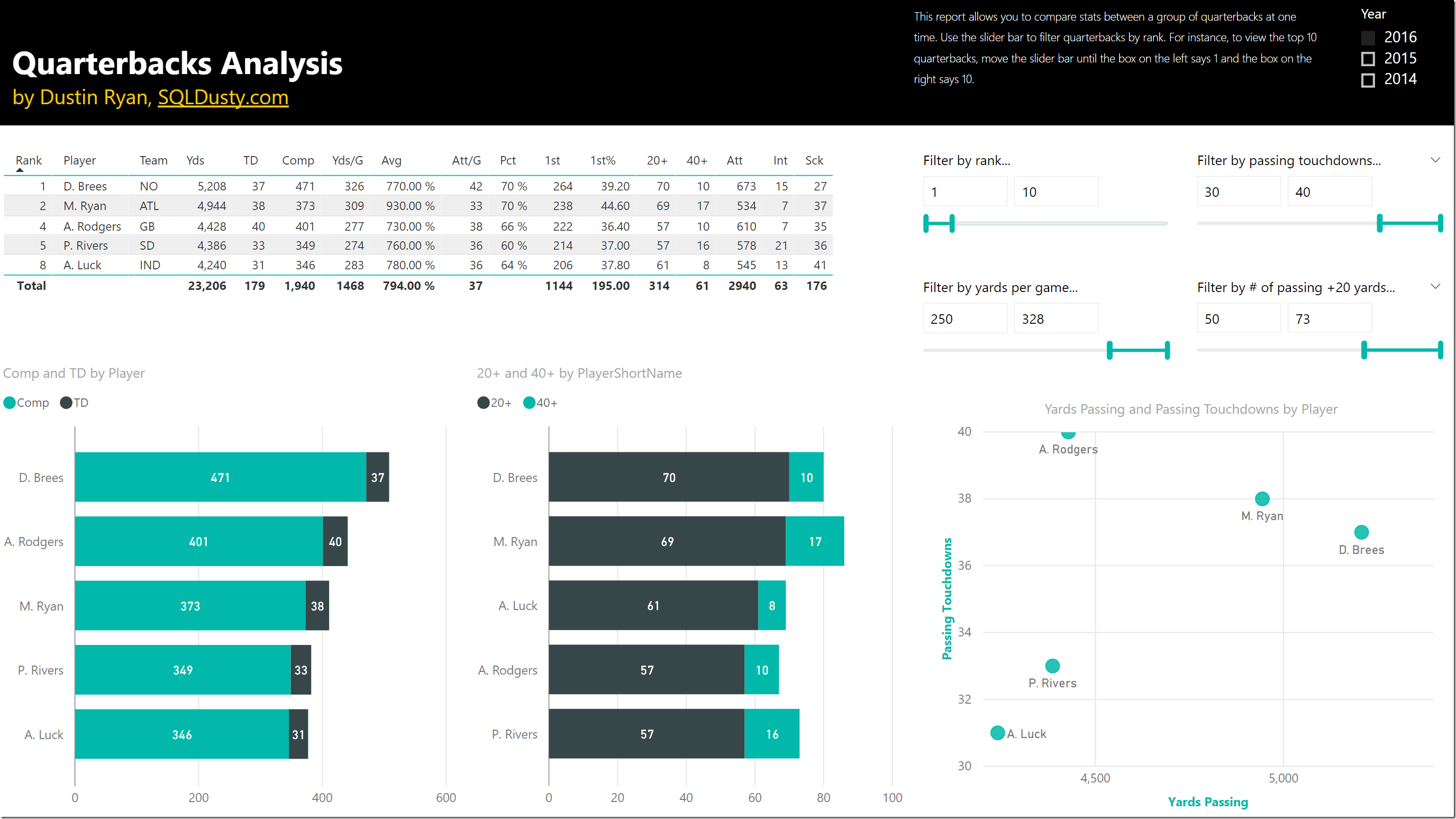 Once you've narrowed down your choices for a QB, use the QB Comparisons page the compare the stats between the two player.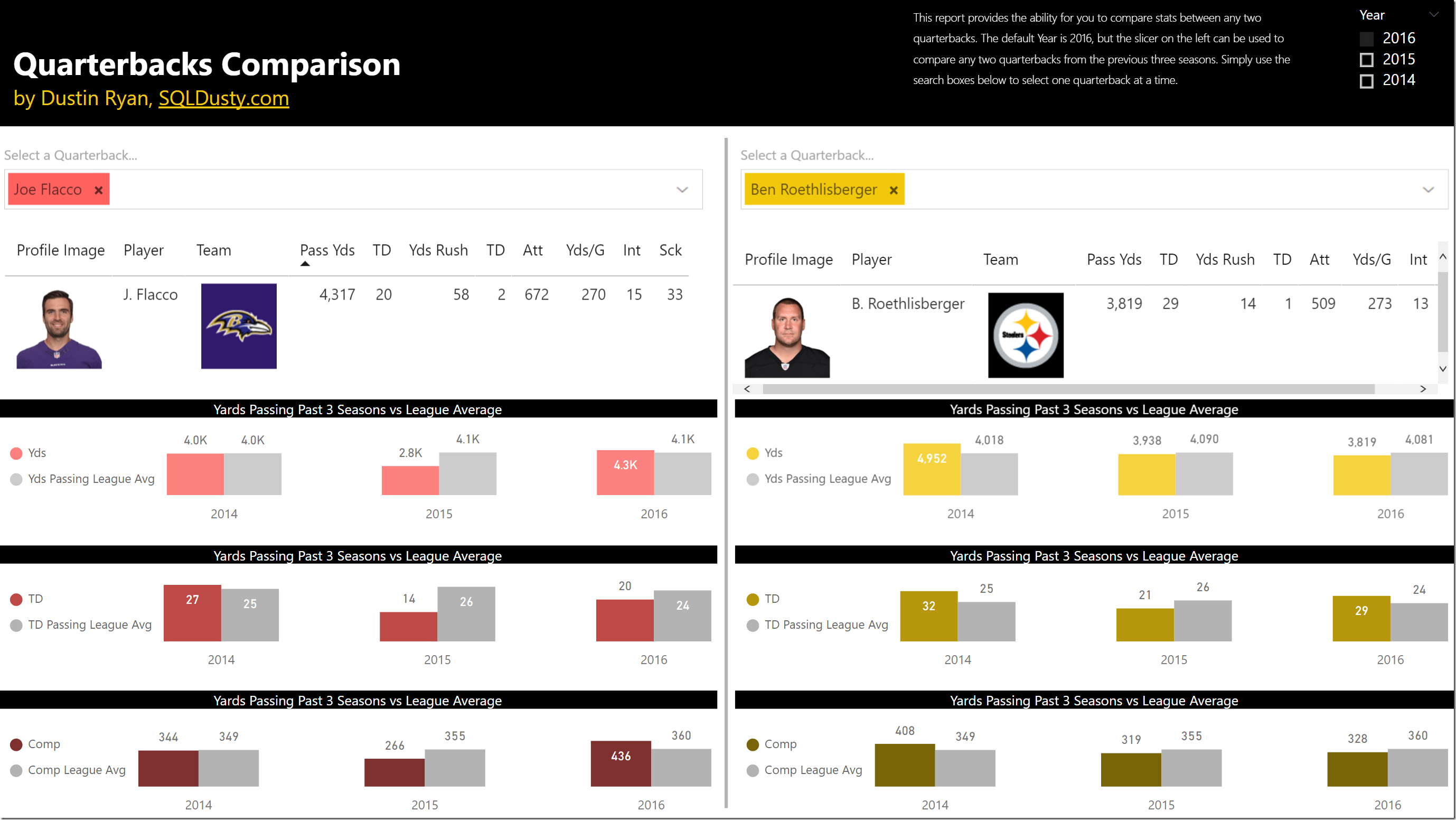 Runningback Analysis and Comparisons
The RB Analysis and RB Comparisons reports are very similar to the QB Analysis and Comparisons with the exception of course being that the information displayed is limited to the runningback position group. One of the interesting things easily seen below in the scatter plot is that there is no big difference between the players Howard, Murray, and McCoy when comparing rush yards and receiving yards.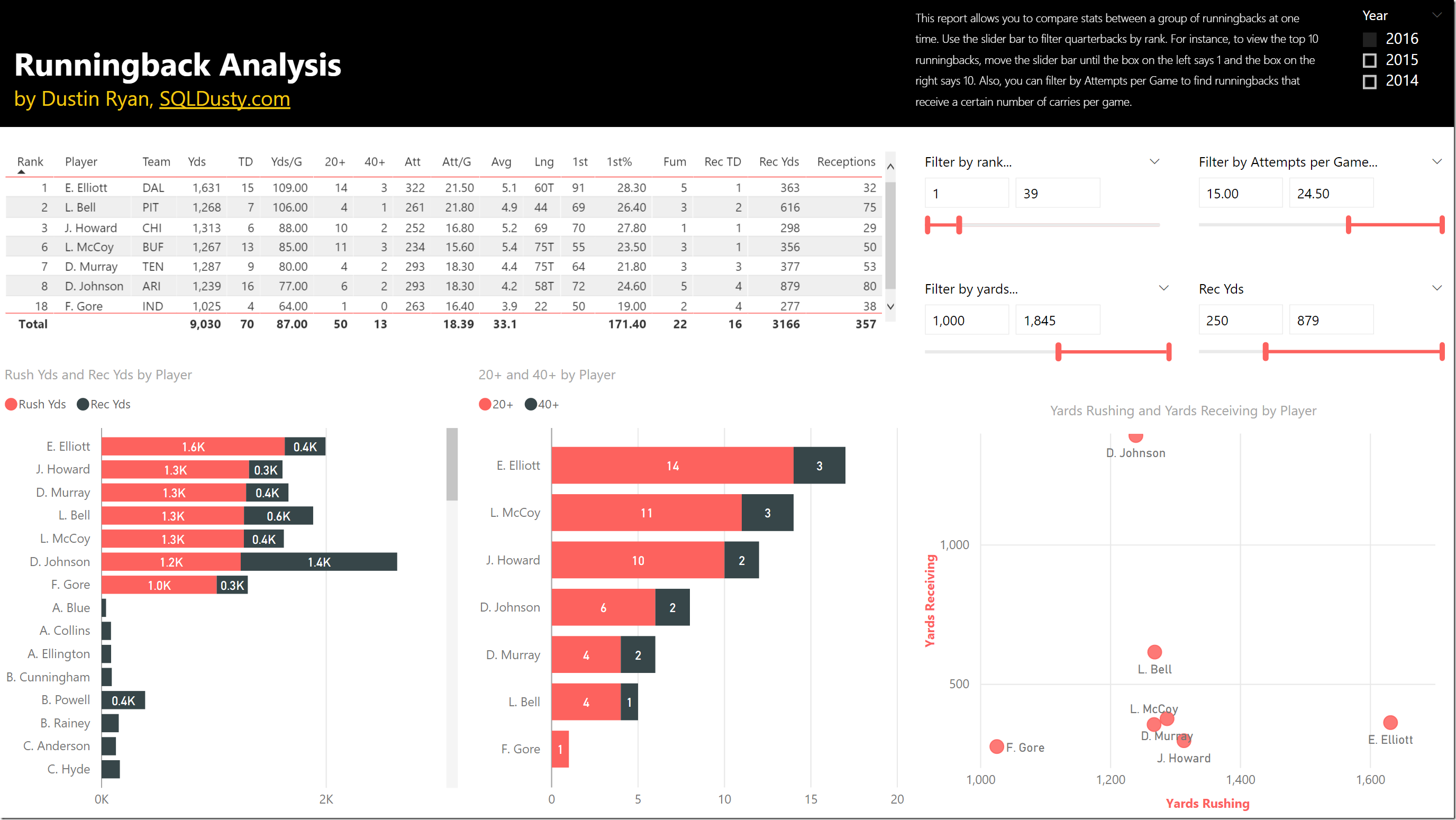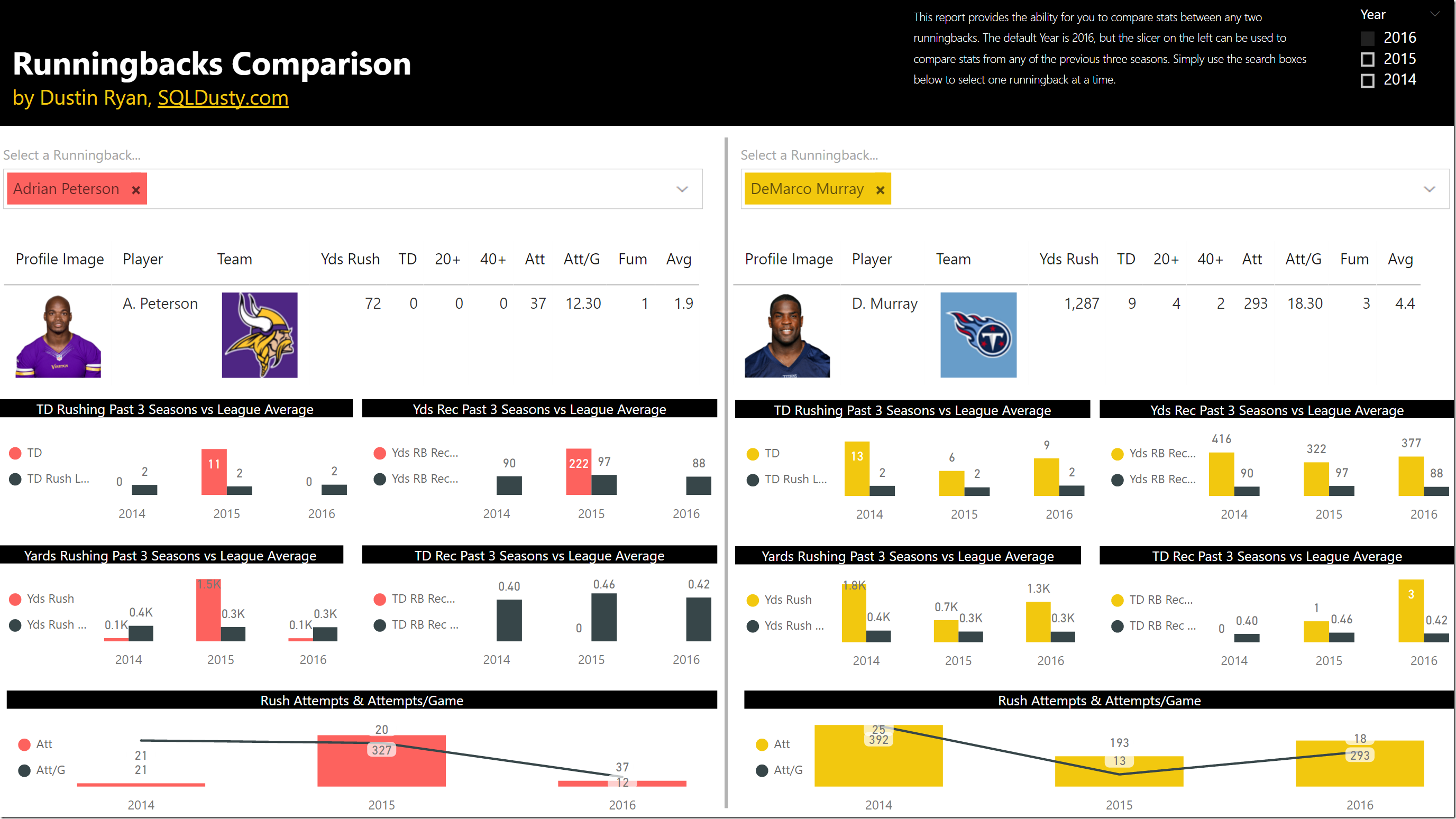 Receiver Analysis and Comparisons
Then you have the Receiver Analysis and Comparisons reports displaying stats and information for receivers, including wide receivers and tight ends.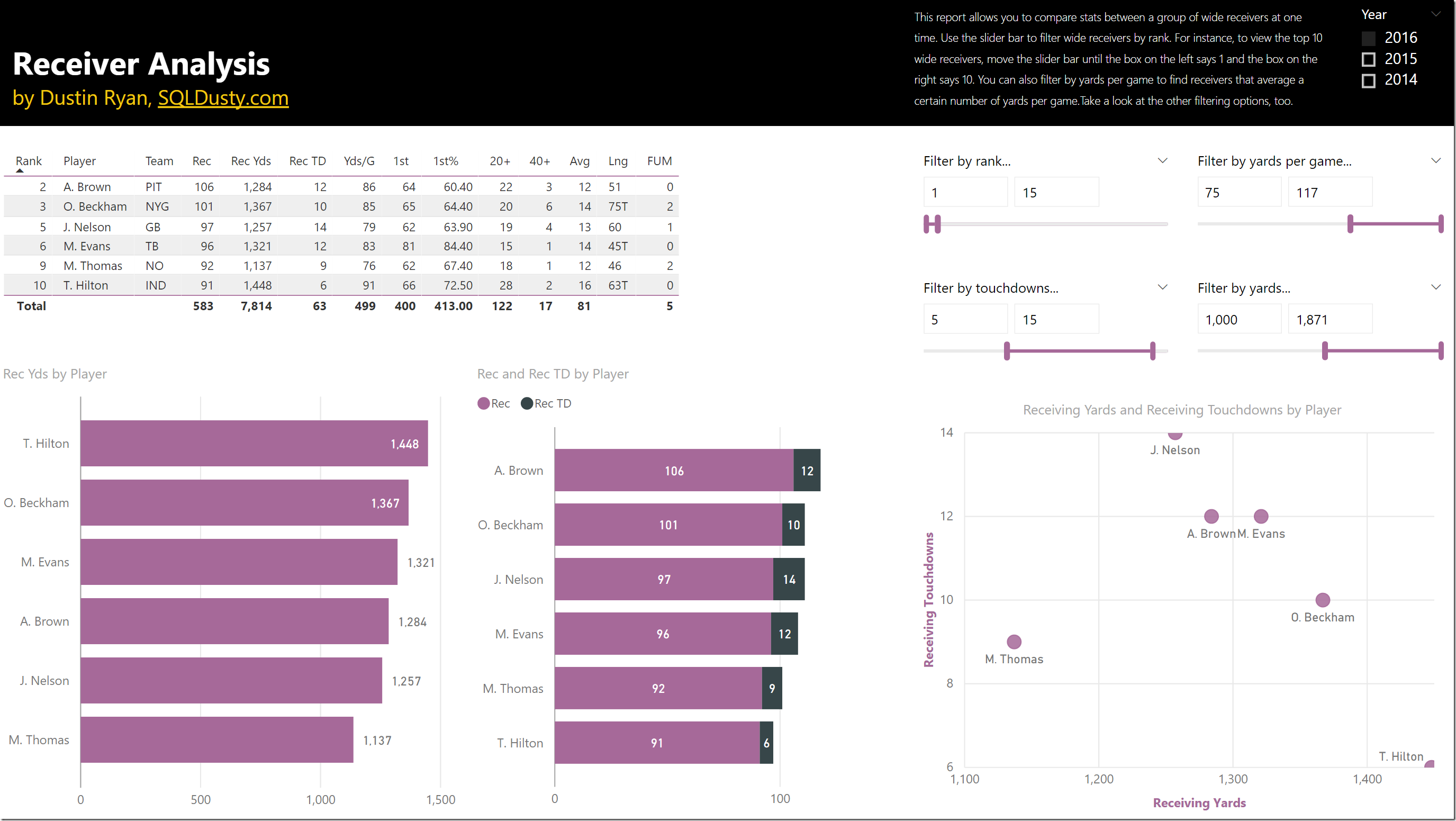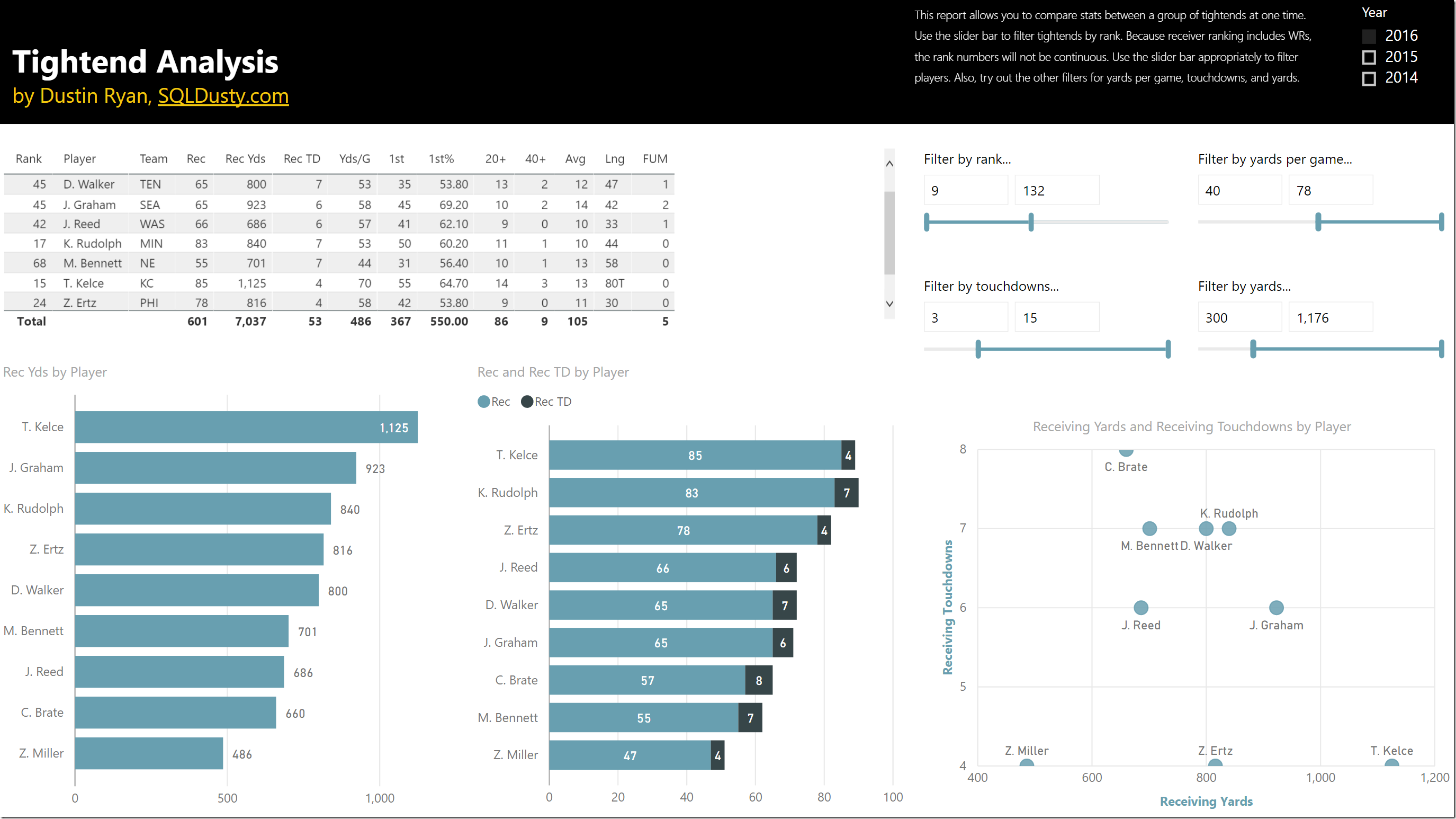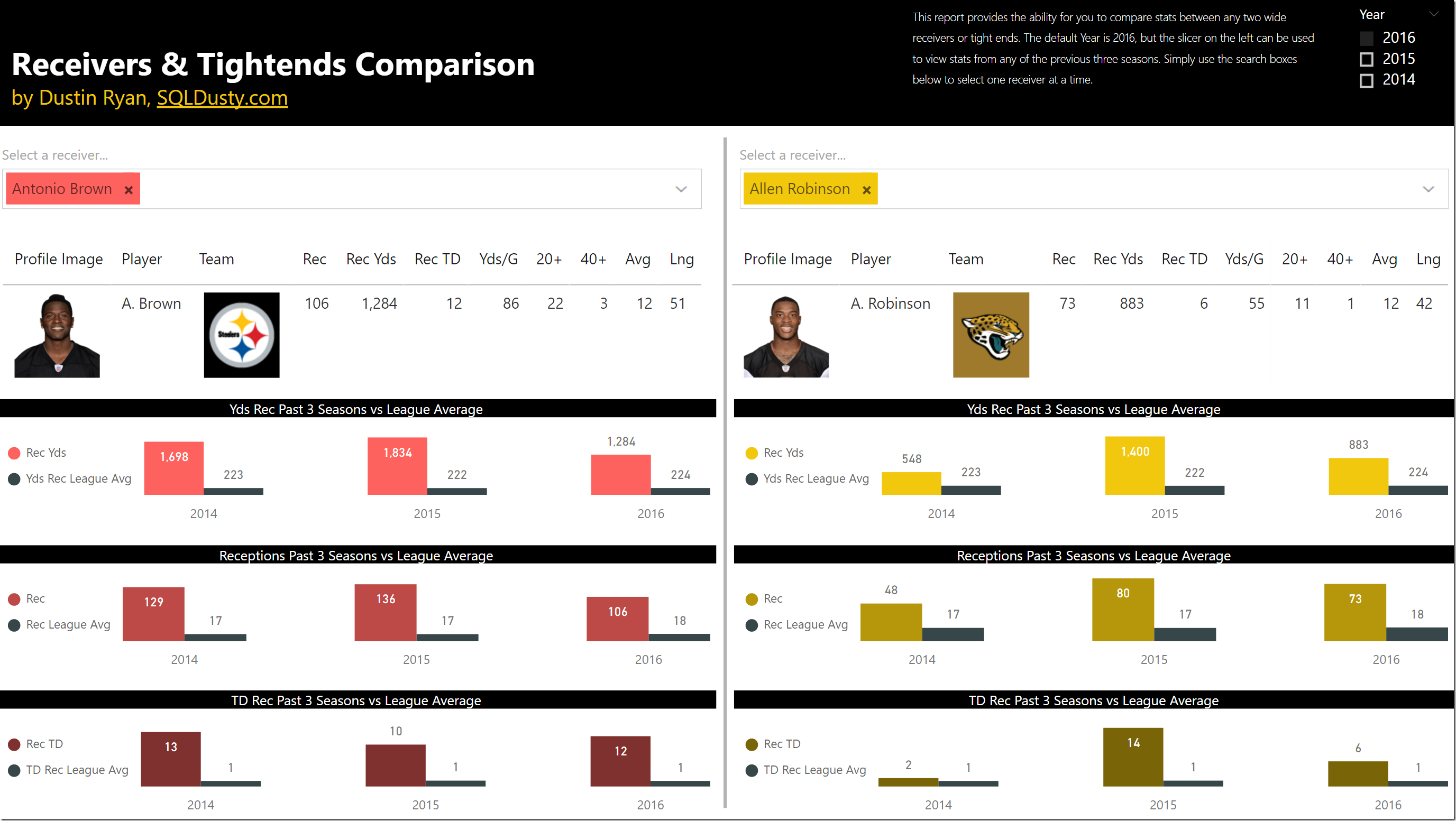 Kicker Analysis and Comparisons
And of course, you've got the Kickers, the most important position in ANY fantasy football draft.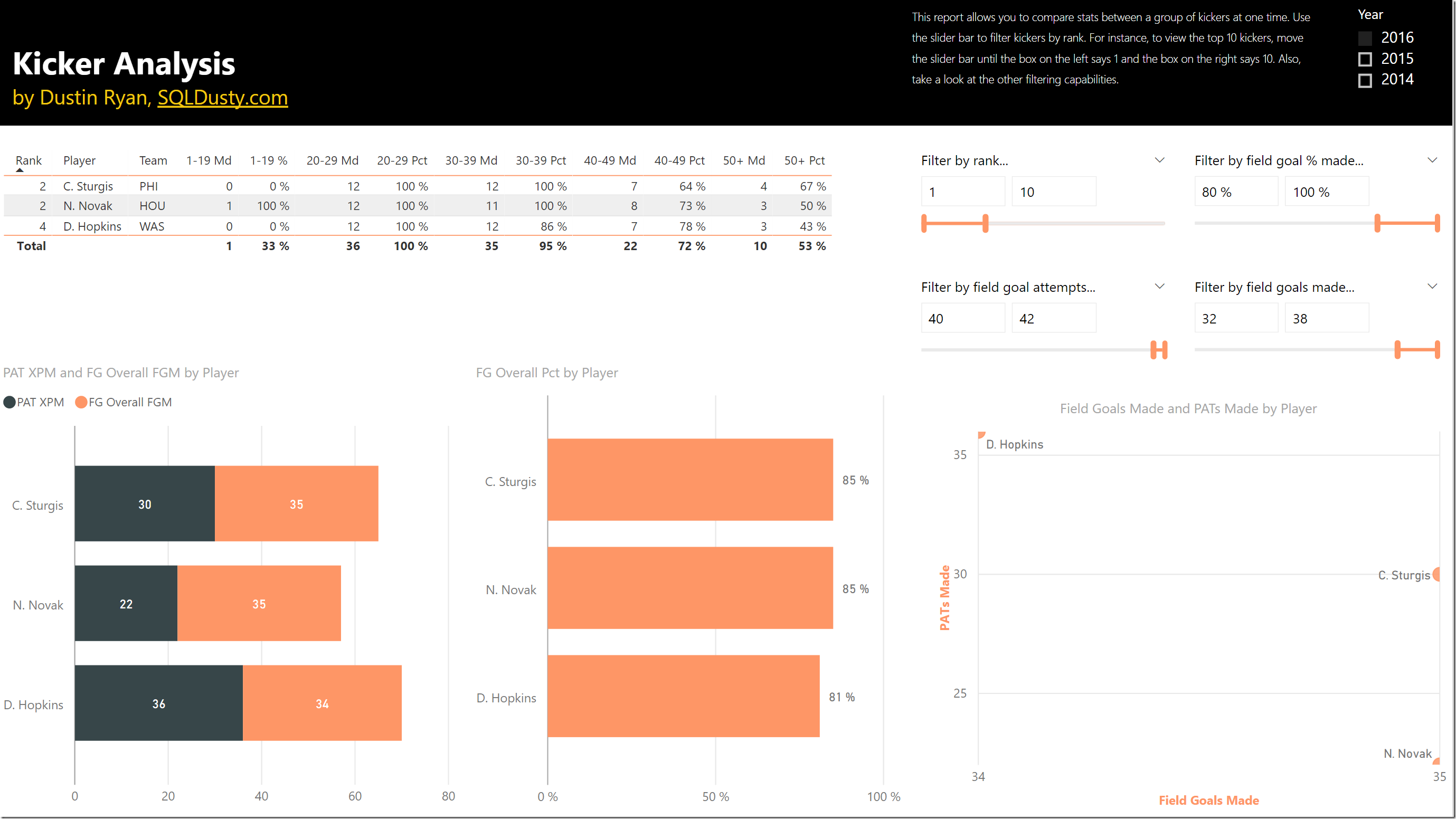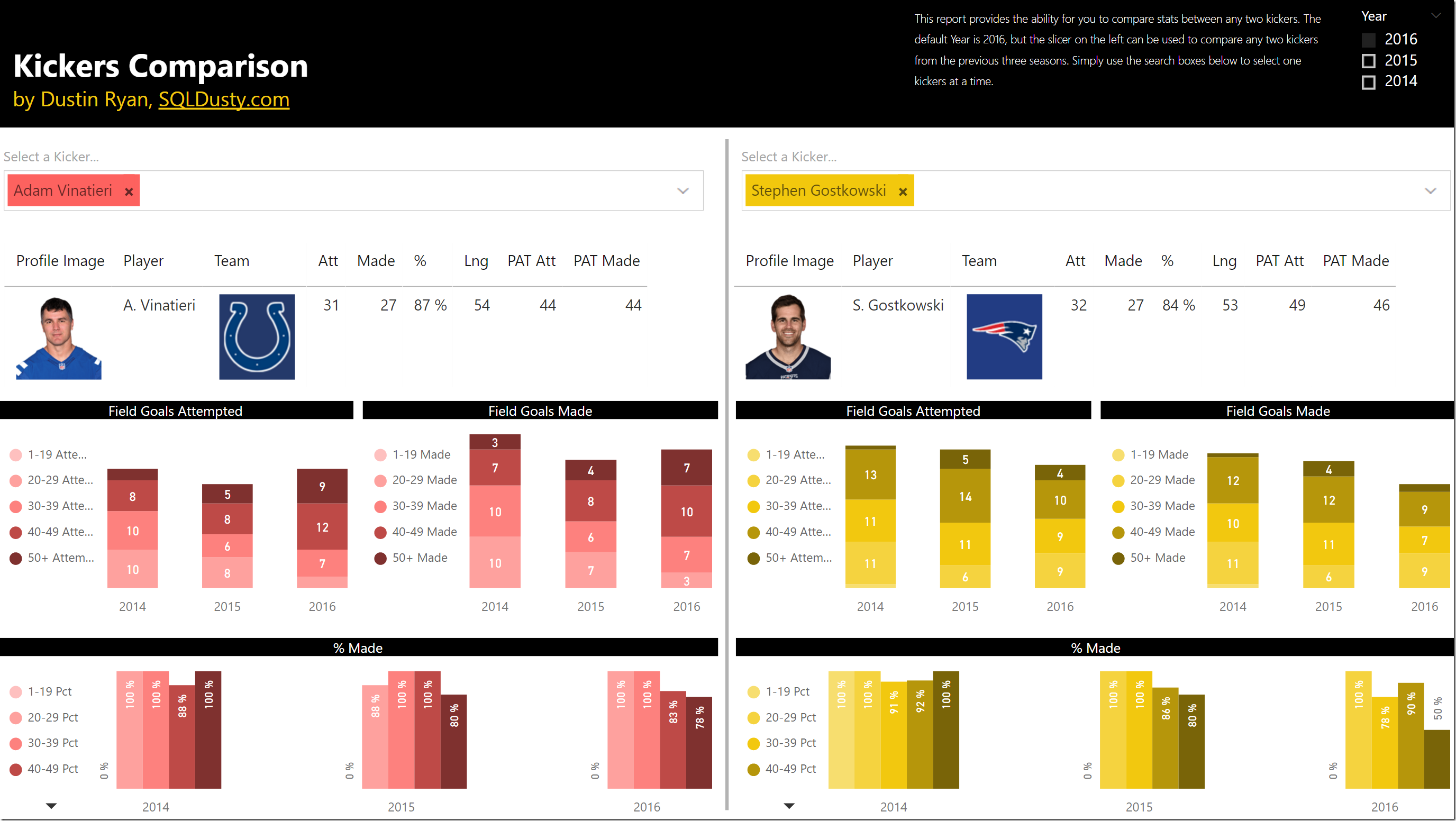 I hope you find these Power BI reports useful. If you have any questions or feedback, feel free to leave a comment down below. If you happen to uncover and bugs, feel free to let me know!
Resources
View the Power BI NFL Football Stats Comparisons and Analysis Report here
Download the Power BI Desktop file here