I've had a lot of people ask me for this over the past few months and its finally (mostly) ready! There are still a few things I'd like to do with the data models and reports but I wanted to go ahead and get the content shared out since I know many people use this for the Fantasy Football drafts which generally happen during the third week of the NFL preseason.
So here it is. I've spent a decent amount of time scraping the data from a few different websites in order to put something together I thought would be useful and fun, so please take a look and enjoy it!

Click here to view in full screen
There are currently three pages to analyze stats for the 2016, 2017, and (eventually when they become available) 2018 seasons. The pages are broken down by position groups:
Passing Analysis
The Passing Analysis page allows you to mine the passing data for quarterbacks. Use the left pane to the select a specific quarterback and view their individual stats in the left pane and their team passing completion percentage compared to the league average broken down by field position. Use the slicers at the top to filter down the scatterplot and bar chart to certain subgroups of passers.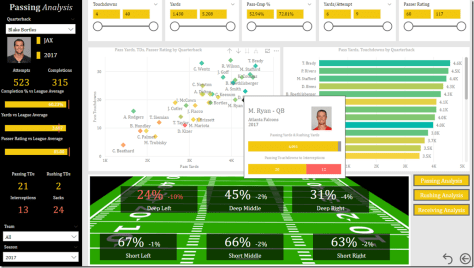 Rushing Analysis
The Rushing Analysis page is very similar to the Passing Analysis except in the left pane near the bottom you can select a position group that you'd like to analyze. For instance, we can use this page to analyze the rushing stats for QBs, RBs, or WRs.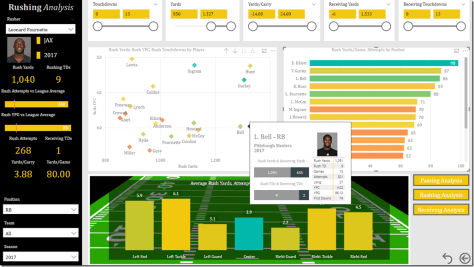 Receiving Analysis
The Receiving Analysis page is also similar to the Rushing Analysis page.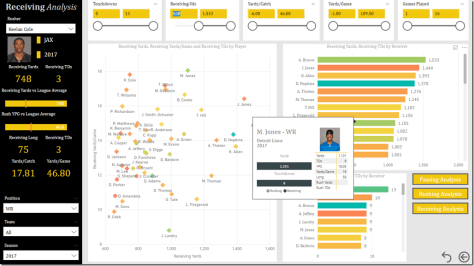 I'm hoping to add player comparison pages similar to the ones I did last year for each position group. As soon as I have that available I'll update the reports and the blog post.
Resources
For the benefit of shared learning, I'm making the Power BI Desktop file available here.
Also, you can find my resources for this content on the Credits page of my Power BI report. But I've also included them here:
NFL.com
NFLSavant.com
Footballdb.com
Feedback & Thoughts
I will be posting the Power BI Desktop file for download eventually but I've still got a little bit more work to do on it. As always, I look forward to the feedback and hope you find this beneficial whether you love football, data, Power BI, or all three like me.