Obviously the big news of the day is the announcement for general availability of Power BI Premium! And if you were at or you watched the Microsoft Data Insights Summit you saw that announcement. But early last month on May 3rd, Microsoft announced Power BI Premium, which allows you purchase dedicated capacity for your Power BI assets, thus allowing you to share content with Free users within your organization.
Microsoft stated that Power BI Premium would be GA late Q2 of 2017, which could mean nothing else aside from June. Well, today is the day that Power BI Premium, along with Power BI Report Server, are generally available.
Lucky for me, I have a user on a tenant with Power BI Premium capacity available for me to use. When you first log into your tenant after Power BI Premium capacity has been purchased, you are presented with the following welcome screen which includes a link to learn more about Premium capacity.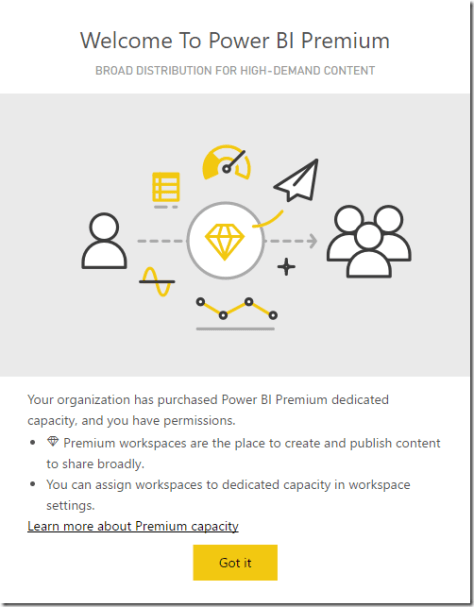 I immediately noticed the little diamond icon next to My Workspace, as seen below. The diamond icon next to a workspace indicates that the workspace is on dedicated Premium capacity.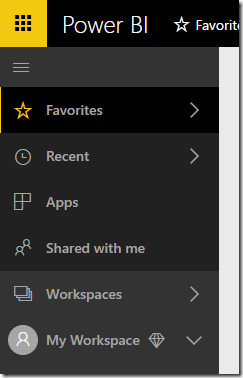 But the question is how much capacity is actually available? If you've done any reading on Power BI Premium, you know there are different capacity tiers available. To see how much Premium capacity was available to me I clicked on the settings cog in the top right, selected Admin portal, and selected the Premium settings menu. You can see in this tenant that I have one P1 Capacity available.
If you're a Capacity admin, you can click the Capacity to expose the Capacity name to expose the Capacity management screen. I'm not a Capacity admin here, but you can read more about managing capacity here.

Also, you may have noticed the "Power BI Report Server key" in the top right of the Premium settings pane. This is where you can view the Power BI Report Server software key for deploying Power BI Report Server on premises within your organization's firewall. If you recall, by purchasing Power BI Premium capacity, you also gain the rights to deploy Power BI Report Server on premises. You can download the June 2017 GA release of Power BI Report Server here.

To deploy to Power BI Premium capacity, you first need to have a Power BI Pro license. Power BI Pro licenses are required to share content so to create an app workspace you need to have a Pro license.
Once you have your Pro license, log into Power BI, click on Workspaces in the navigation pane on the left and click Create app workspace.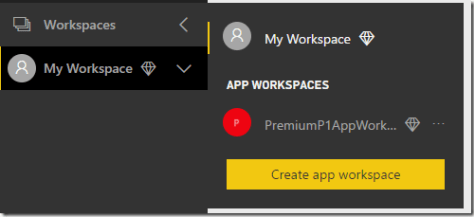 Give your app workspace a name, set the permissions, and add any members required. To ensure this app workspace is created on Premium capacity, expand the Advanced options, as seen in the screenshot below. Click the button to enable Premium capacity for this app workspace. Select the dedicated capacity to use for this workspace

Once you create the app workspace, you should see your new workspace available with the diamond icon beside it indicating the app workspace is using Premium capacity.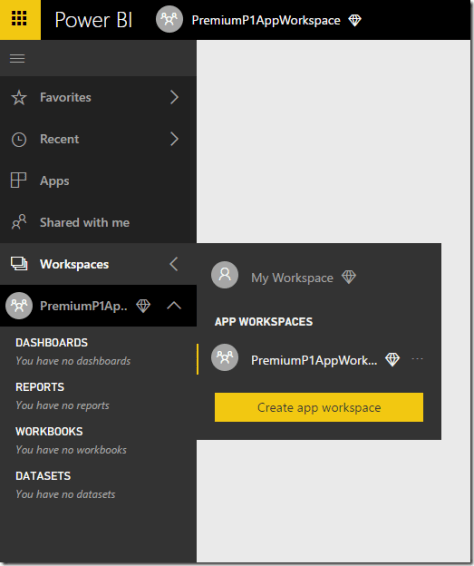 Once you deploy some Power BI data sets, reports, and dashboards, you can then create an app based on the app workspace. With the app published, I can see my app in the Apps area of the navigation pane. Any apps deployed on Premium capacity will again have the diamond icon indicating its deployed on Premium capacity and will be subsequently accessible by Pro and Free Power BI users alike.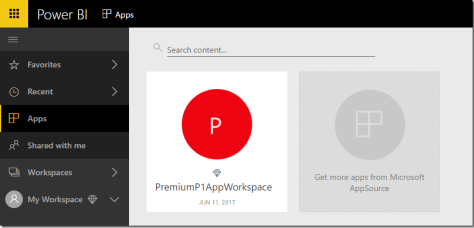 Other Resources
To purchase and provision Power BI Premium capacity, you need to be a Global Admin or a Billing Admin. Adam Saxton has more on that here in the Power BI documentation: https://powerbi.microsoft.com/en-us/documentation/powerbi-admin-premium-purchase/
Read more about managing Power BI Premium here: https://powerbi.microsoft.com/en-us/documentation/powerbi-admin-premium-manage/
Download Power BI Report Server June 2017 GA release here: https://www.microsoft.com/en-us/download/details.aspx?id=55329
Feedback?
What are your thoughts on Power BI Premium? I'd love to hear your feedback on the direction Microsoft is taking Power BI so leave a comment down below!