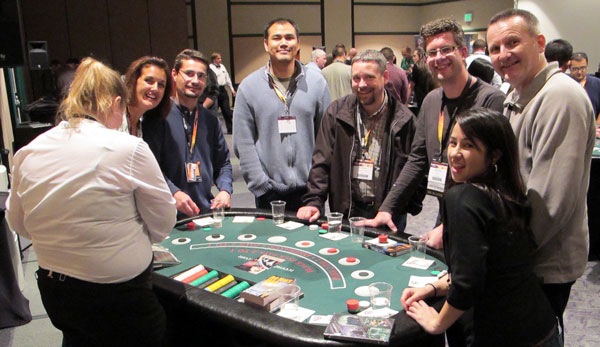 One of the highlights of my year is hosting a party each opening night at the PASS Community Summit. I've done this for 6 or 7 years and it's been a great time every year. We have tried a few different themes, but have settled on a casino theme that has been a lot of fun for everyone in recent years.
We used to only allow people into the party that used our referral code. That was good for me since it was less work and the PASS staff managed the admission process. However so many people wanted to come that either didn't, or couldn't, use our code (hint, it's SSC2010 for the 2010 Summit), that we decided to sell tickets. So someone had to work the door and handle money.
That fell to me the first year since no one wanted the responsibility, and since then I've continued to greet people at the door, collecting tickets and money as they enter. It reminds me of years past when I used to work the door at various nightclubs. Fortunately I haven't had to stop any fights or ask anyone to leave from the PASS Summit, which is a welcome relief.
This year we are planning on another great party on opening night. Once again it will be a casino theme, and should be another good time for those who want to come. I'll be at the door, and we'll have lots of great prizes, given out randomly to those who attend. Don't worry if you aren't a gambler or don't understand the games, you have as good a chance as everyone else to win.
If you can come to the PASS Summit, and as a SQL Server professional you should, use our SSC2010 code when you register. It gets to $100 off the current price of attendance, and a ticket to our party. If you can't use the code, or you've already registered, we'll sell tickets for $30, which is well worth it. I'm sure any past attendees would testify to that.
Steve Jones
PS - If you have suggestions for prizes, drop them in the discussion. We usually give away a lot of DVDs, and last year I added in books, in addition to flash drives, small games, etc. Drop a note for something in the $10-$20 range and I'll see what I can do.
---
The Voice of the DBA Podcasts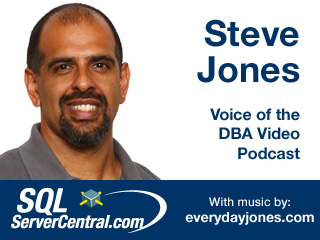 The podcast feeds are available at sqlservercentral.mevio.com. Comments are definitely appreciated and wanted, and you can get feeds from there.
You can also follow Steve Jones on Twitter:

or now on iTunes!
Today's podcast features music by Everyday Jones. No relation, but I stumbled on to them and really like the music. Support this great duo at www.everydayjones.com.