Introduction
Often at times, you may come across situations where you need to calculate a column repeatedly multiple times in the same Power BI report or across multiple reports. Although you can use the calculated columns to some extent, these are not robust and not reusable. In order to reuse the same piece of code, you need to create custom functions using Power Query and then use them in the columns.
In this article, I'm going to explain how we can create and use a custom function in Power BI.
Solution
For the sake of this article, I'll demonstrate how to calculate the age of a person from the date of birth using the custom function.
Disclaimer – For simplicity, the formula used to calculate age in this article is just used to demonstrate the use of the function and might not be accurate (since we calculate the difference from the current date in years). In case you need more information on how to calculate age from the date of birth you can follow the logic mentioned in this thread.
I have imported a simple dataset into the Power BI environment. This dataset contains two columns –
User – Name of the user
DOB – Date of Birth of the user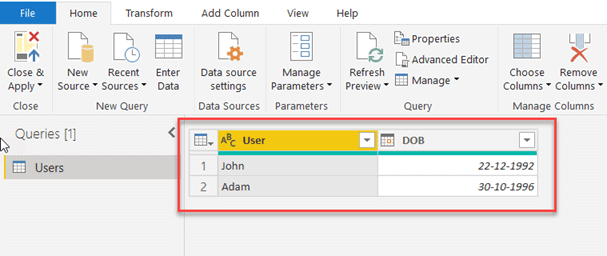 In order to create the custom function, you can follow the steps below.
For your reference, I have added the sample Power BI report within this article and it is available to download and use for free. Please follow this link to download the sample report.
Next Steps
In this tip, I have discussed how to create custom functions in Power BI using Power Query (M) and use it in another custom column. The next steps are as follows: