Hello, thanks in advance for any help.
I have a query like this:
select distinct StudentID, Description ,sifn.AccomodationFlag, sifn.Name, sifn.labelorder
from StudentInfoFields sif
inner join StudentInfoFieldNames sifn
ON sifn.RecordID = InfoID and sif.Description <> ''
WHERE name='EquipmentCode_1' OR name= 'temp OrcaCardFlag' OR name= 'temp OrcaCardFlag'
OR name='Monitor: (MONIT)' OR name='MustBeReceived (YES/NO)'
I got result like below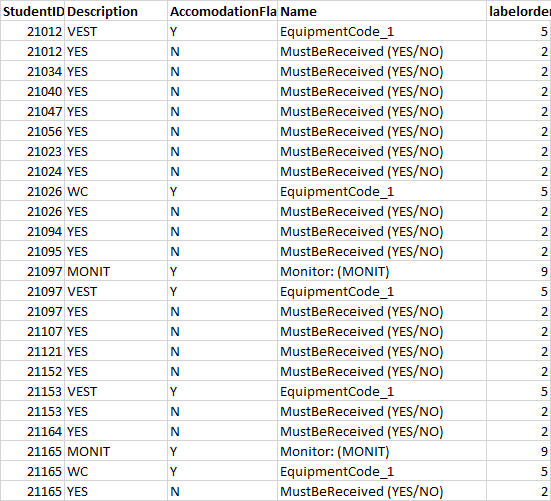 I would like to roll up some rows to columns, and one record for one student,
for example the first student 21012,
I would it become something like below: How can I achieve below?  also if I want to add accomadationflag in below, which could be yes or no, is there a way to do that, the latter question is not important as the first one, if cannot do, it is ok.