Thank you for your detailed reply. I've only just noticed some of the things you mentioned from a previous reply, I totally missed it earlier. You wrote:
"Names at the logical level should be standard business names, NOT "computerized" names. "
What is meant by the logical level? is normalization part of the logical level?
Regarding the rules for normalization. I'd kindly like to ask why the entity names need to be either singular or plural (not challenging what you said I'd just like to improve my understanding of it). I've never actually heard of camel case until you mentioned it. Kudos. Off topic but is there like an exercise book on database normalization you recommend?.
Thanks for the table normalization you provided. Using what you provided, I attempted to sketch it using 'app.diagrams.net' (just so that I could picture it better).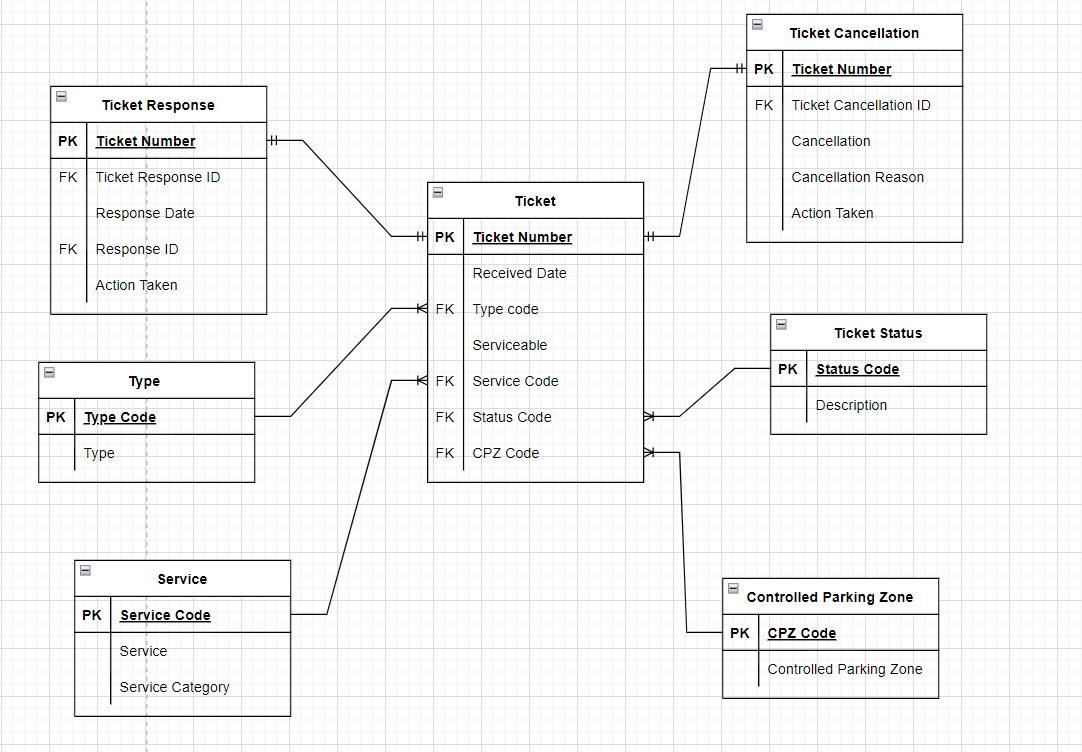 Here is the .drawio file if you would like to have a look: https://www.mediafire.com/file/1iqlvsnsbdsng6v/draft.drawio/file
I added CPZ Code in ticket so that I could create a relationship with Controlled Parking Zone. I hope that's okay. Regarding:
"Btw, I could find no relationship between CPZ and Ticket. CPZ description says "the area that the vehicle was parked". What vehicle??"
Allow me to retract what I said. CPZ would be the area that the ticket was issued.
Thank you