Just a caution...
The WEEK (ww) datepart is ALWAYS based on Sunday for DATEDIFF.  MS did that to ensure that the DATEDIFF(wk) functionality will be "Deterministic" so that it can be used in things like PERSISTED computed columns. Here's the reference for that nuance:
https://learn.microsoft.com/en-us/sql/t-sql/functions/datediff-transact-sql#remarks
As a result, I avoid the WEEK (wk) datepart at all times because 1) others may try to use the code for other days of the week (with mods, of course) and that would lead to "Silent Failures" for them and 2) I might forget if my corpuscles have not attained sufficient levels of caffeine. 😀
I also NEVER base "fixed" requirement date calculations (all weeks start on a given day of the week) on the use of DATEFIRST because, in this worldwide economy, that can change at the drop of a hat... any hat. 😀  Yep, that can be compensated for but there's that corpuscles and caffeine thing again.  With that I'll say that I'd reject the currently accepted answer (at the time of this post, and has since been changed) during a code review.  So would my corpuscles, properly caffeinated or not. 😀
I have also taken to trying to make sure that dates prior to the SQL Server epoch of 1900-01-01 can be handled, just in case someone needs to handle earlier dates.
I've not checked the results for the currently accepted answer  (at the time of this post, and has since been changed) because it would never see use if I had my say.  Phil's code comes mighty close but it seems to have an issue with months where the first day of the month is a Sunday as seen in the following output from his code.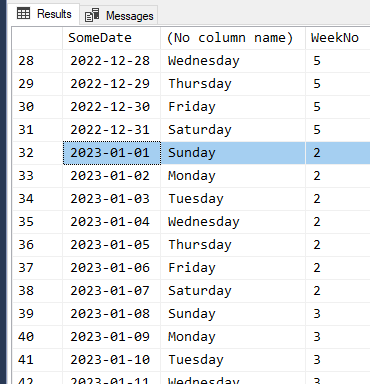 With all that in mind, here's a function that takes all of that into account with the only requirement that the given date must be greater than 0001-01-07.  Simple usage examples and other documentation are where they usually can't get lost... in the code. 😉
 CREATE FUNCTION dbo.WeekOfMonthSun
/**********************************************************************************************************************
 Purpose:
 Return the Week Number (WeekOfMonth) for the month of the given date.
-----------------------------------------------------------------------------------------------------------------------
 Usage Examples:
--===== Single Date Variable
DECLARE @Date DATE = '2023-09-02';
 SELECT * FROM dbo.WeekOfMonthSun(@Date)
;
--===== Table (sys.objects, in this case) containing date or dates and times
 SELECT  so.create_date
        ,DayOfWeek = DATENAME(dw,so.create_date) --Not required. Here for testing.
        ,wom.WeekOfMonth
   FROM sys.objects so
  CROSS APPLY dbo.WeekOfMonthSun(so.create_date) wom
  ORDER BY so.create_date --Not required. Here for testing.
;
-----------------------------------------------------------------------------------------------------------------------
 Required Definiton of Week Number from the Req:
 I would define first week as any days of the month that land on the first week of the month.
 i.e. if September 1 lands on Friday, then September 1 and 2 would be week 1 and week 2 starts on Sunday, September 3.
 Sunday being the beginning of a week and Saturday the end of a week.
-----------------------------------------------------------------------------------------------------------------------
 Programmer Notes:
 1. The code calculates the number of weeks between a known Sunday and the given date.
    It then subtracts the number of weeks between a known Sunday and the 1st of the month for the given date.
    Since that would result in a "0" based answer, 1 is added to that difference to make a "1" based answer.
-----------------------------------------------------------------------------------------------------------------------
 Revision History:
 Rev 00 - 29 Sep 2023 - Jeff Moden
                      - Initial creation and unit test.
                      - Req: https://www.sqlservercentral.com/forums/topic/get-week-number-of-month#post-4297360
**********************************************************************************************************************/--===== Function Parameter(s)
        (@Date DATE)
RETURNS TABLE WITH SCHEMABINDING AS
 RETURN 
 SELECT WeekOfMonth = (DATEDIFF(dd,'00010107',@Date)/7) --Weeks from earliest possible Sunday to @Date
                    - (DATEDIFF(dd,'00010107',DATEADD(dd,1-DAY(@Date),@Date))/7) --Weeks from earliest Sunday to FoM.
                    + 1 --Convert 0 based to 1 based.
;
GO