This week Paul Murphy made some interesting speculations about the future of the Oracle platform, now that Sun has set. His most provocative forecast was that Oracle's purchase of Sun was going to lead to fairly substantial rationalization of some of Oracle's major components, such as the recently-purchased BEA Weblogic server. Thanks to Sun innovations such as transactional memory, and the shear number of processors provided on a single chip, some of the most complex and over-head intensive, yet commercially valuable, features that are built into these Oracle components are just not necessary on Sun hardware.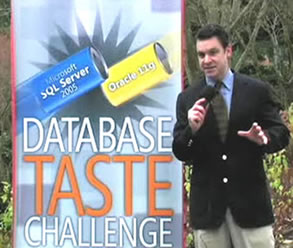 As a result, Oracle is now, potentially, in a position to offer customers not just its database software, but also a complete end-to-end package, tailored to specific needs, and including hardware, custom middleware, and Sun Ray thin clients, and probably also installation and support services, for a single price; although admittedly a high price.
The inevitable question that arises is: would SQL Server also benefit from this kind of complete technical solution? While it's ostensibly great that Oracle can now provide customized and optimized hardware and software for any conceivable situation, I think most SQL Server users appreciate a little more flexibility. While Oracle is a more powerful and scalable system, SQL Server is more affordable, has many more built-in features, does more self-management, and does not dictate the use of specific hardware in order to take some of the pain out of using it.
Mack Stevens puts some of these points across quite nicely in a Microsoft sponsored spoof video, using an entertaining Kool-Aid metaphor. Aside from some specific use-cases where nothing else will do, Oracle is just overkill for most people. The sheer cost of an Oracle set up, especially if accompanied by particular hardware affinities, represents a severe case of diminishing returns for many users. Of course, there have been some grumbles about SQL Server R2 being a big price jump, and mainly adding BI features that are not relevant to many users. However, bear in mind how much SQL Server will do straight out of Mack's proverbial cup, and realise that you're actually getting a lot of value.