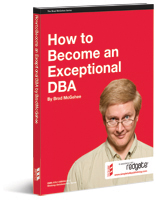 How to become an Exceptional DBA by Brad McGehee

(1st Edition, July 2008)
---
Download eBook (PDF): Free

---
" This book is my attempt to provide a "career guide" for DBAs. It is intended both to help prospective DBAs find a "way in" to the profession, and to advise existing DBAs on how they can excel at their jobs, and so become Exceptional DBAs."" – Brad McGehee
---
View Related Books:

to SQL 2008
---
Editorial Review
This book is not about the technical aspects of being an Exceptional DBA. There are already many good resources available on this topic. This book is a career guide that will show you, step-by-step, specifically what you can do to differentiate yourself from the crowd, so that you can be an Exceptional DBA. While I focus on how to become an Exceptional SQL Server DBA, the advice in this book applies to any DBA, no matter what database software they use. Specifically, these are the topics that are covered:
Why I Should Become an Exceptional DBA
Characteristics of the Exceptional DBA
Specialize: You Can't Do It All
Hone Your Skill Set
Is Professional Certification Really Necessary
Participate in the SQL Server Community
Manage Your Career, Don't Let it Manage You
Manage Your Brand Within Your Organization
Manage Your Online Brand
Take Action Now
Once you finish this book, you will have the background you need so that you too can become an Exceptional DBA. If you are considering becoming a DBA, or are a DBA and want to be more than an average DBA, this is the book to get you started.
About the Author
Brad McGehee is a MCSE+I, MCSD, and MCT (former) with a Bachelors' degree in Economics and a Masters in Business Administration. Currently the Director of DBA Education for Red Gate Software, Brad is an accomplished Microsoft SQL Server MVP with over 13 years' SQL Server experience, and over 6 years' training experience.
Brad is a frequent speaker at SQL PASS, SQL Connections, SQLTeach, Code Camps, SQL Server user groups, and other industry seminars, where he shares his 13 years' cumulative knowledge. Brad was the founder of the popular community site SQL-Server-Performance.Com, and operated it from 2000 through 2006, where he wrote over one million words on SQL Server topics.
A well-known name in SQL Server literature, Brad is the author or co-author of more than 12 technical books and over 100 published articles. His most recent book was "How to Become an Exceptional DBA", and later this year he will be releasing a book on how to use the SQL Server 2005/2008 Profiler. When he is not travelling to spread his knowledge of SQL Server, Brad enjoys spending time with his wife and young daughter in Hawaii.
---
Book Details
Paperback: 90 pages
Publisher: Red Gate Books