I am doing some IO testing on a newly build server using Diskspd.
diskspd -b8K -d300 -o8 -t8 -h -r -w0 -L -Z1G -c20G c:\dba\iotest.dat
Simultaneously I was using perfmon to track the below counters.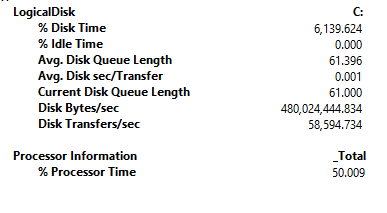 While I was doing this, I wondered if this was a production server and If I was troubleshooting a performance issue and looking at the above perfmon counters how would I know if there was a disk bottleneck?
Reading about disk bottleneck, internet literature says latency(sec/read, sec/write) is a better indicator of disk performance issues, but in my case its only 1ms. Disk queue length is high, but how do I know how high is high in the word or SAN and SSD. % ideal time, I have not used this in the past, so not sure if that being 0 has any weight to it.
So I am wondering, if to realistically troubleshoot an disk issue, should we have a baseline/benchmark value before the server goes in prod to compare against?