Hi Siten0308,
If those symbols are in the font, you should just be able to find out which character they are, and use the respective font and character. Use charmap.exe to view the characters in the font, and when you spot the symbol you're after, find out which letter it is, or double-click it to copy, and paste it into a SSRS text box with the same font.
As an example, I've installed a E13B MICR font and used charmap.exe to show me the characters in the font-set. That showed me the font uses "Latin Capital Letter A" for ? (transit) (and B,C,D for the other symbols).
Then I set the font for a text box to my E13B font, and set the value to "0123 A".  The result is below.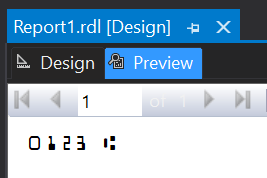 You will need your MICR font installed on the SSRS server for it to show on generated reports.
Best,
Andrew P.