I have a main report calling three subreports. The subreports are being grouped together by the CourseID field. Page 1 shows course 1 for the first two reports. The third subpreport is for comments. If course 1 has comments, they will show up on page 2. If there were no comments, page 2 will be first two subreports for course 2.
The problem is that a blank page is showing up on page 2 when there are no comments for the course.
I have a tried grouping the three subreports in two different ways, as shown in the image below. The attempt 1 is the one displaying the issue I just described. Attempt 2 does not insert a blank page, but it does not page break on the comments subreport either. It adds the comments to the bottom of the 2nd report.
I removed the page break between each group instance in the group properties and tablix properties of the 3rd report because it was not making a difference whether or not I had them anyway.
I also have ConsumeWhitespaceContainer enabled on the main report properties. It adds several more empty pages if set to false.
Is there a setting I am missing in the design view?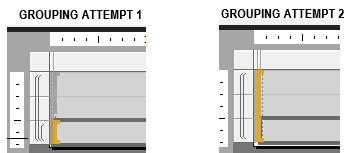 This topic was modified 4 weeks ago by rbarrin3.